Blockchain World Forum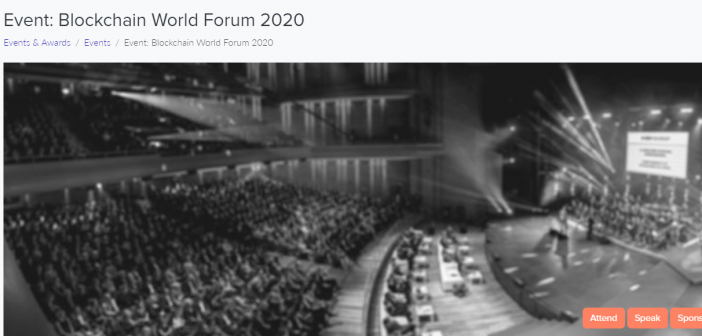 Blockchain World Forum 2020 London is a two-day event that is going to take place in London. Right now, they have not decided on the exact location where it is going to happen. But, soon enough they will be sharing with the community.
Blockchain World Forum aims to explore the blockchain challenges and opportunities. They want to do it through their event where they will provide an interactive environment for everyone attending the event. Anyone from the emerging blockchain industry can join the event including from the likes of entrepreneurs, regulators, technologists, financial instructions, academics, and anyone who is interested in blockchain technology.
Topics and Industries
The event will cover key topics related to blockchain technology through the use of key-notes, solution-based case studies, and interactive panel discussion. Through these, they will create an environment where you can build partnerships and also learn from the best minds in the emerging blockchain space.
They will explore a wide range of blockchain industries including financial services, legal sectors, music, government, energy, real estate, banks, and more!
Lastly, they will also have an exhibition where they will cover the industry business application innovations.
People You Will Meet
At the event, you will meet some amazing people. These people have different jobs, experiences, and knowledge. You can meet entrepreneurs, startups, investors, and many more. The true ecosystem event will give you access to different people from different backgrounds including platform providers, operators, developers, data scientists, software providers, hardware manufacturers, blockchain startups, P2P lenders, payments, government water companies, and much more!
Speakers
The speakers for the event have not yet decided. However, you can gauge the talent at the show by checking the 2019 past speakers.
Roger Haenni, Datum, CEO

Lianghong Fei, AWS, Chief Cloud Technical Advisor

Artem Koltsov, Jinse.com, Partner

Dima Okhrimchuk, Platio, CEO

Roman Zhdanov, Latoken, Managing Partner

Brad Maclean, Gatecoin, COO
And many more!
Tickets
There is no information about the tickets for the event.