Blockchain Seattle 2019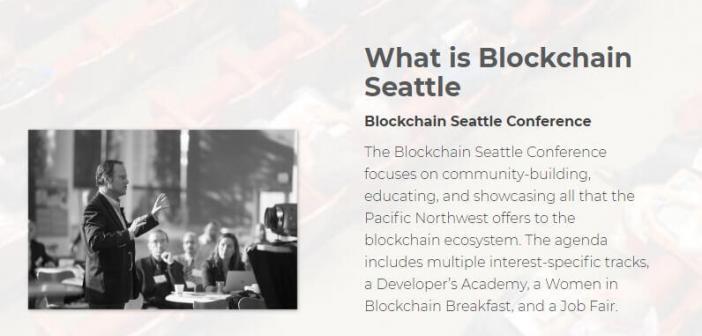 The Blockchain Seattle Conference 2019 is an undertaking of the Blockchain Seattle Community, founded back in 2016. The upcoming conference (date unannounced at the time of writing) will be heavily focused as a community-building platform. However, it will also offer a stage for blockchain educators to share their knowledge and insight with the community.
Main highlights of the conference are its interest-specific tracks categorized into a Developer's Academy, a Women in Blockchain Breakfast, and even a job fair. Comparing this to the 2018 Blockchain Seattle Conference we can expect a positive discourse around blockchains in business, blockchain in tech, blockchain in public sectors, investing in blockchains, and even regulatory environments.
Speakers
The Blockchain Seattle Conference 2019 is all set to feature all the game changers in the industry to voice their understanding regarding the decentralized ledger technology. Attendees will get to hear lectures from over 100 industry leader speakers. Here is a quick look at some of the renowned names in the bunch:
Peter Vessens - Chairman & Co-Founder at New Alchemy

Joe Roets - Architect, Founder, CEO at DragonChain

Matthew Roszak - Co-Founder, Bloq | Founding Partner, Tally Capital

Perianne Boring

 - Founder & President of Chamber of Digital Commerce

Jennifer O'Rourke - Co-founder & President at Attest Inc.

Rahul Sood - Founder & CEO at Unikrn

Mickey Maher - Head of Revenue at CryptoKitties

Dax Hansen - Partner at Perkins Coie
Agenda
The Blockchain Seattle Conference 2019 will have content divided into five tracks along with a dedicated section for dubbed as the "Developer's Academy."
Let's check what it has to offer.
Track One: Blockchain in Business
Here all your questions regarding blockchains and its implication in businesses will get answered. Few of the topics that are going to tackled includes:
Blockchain impact on everything from payments to supply chain management to gaming and IoT

Real world considerations for business blockchain implementation.
And so on. You will get practical advice and insight coming from thought leaders and practitioners building and implementing blockchain solutions in their businesses every day.
Track Two: Blockchain Tech & Platforms
If you are interested in learning about the different approaches in implementing blockchains and how they affect the end result, then you can learn from here.
Leading technologies for blockchain implementation and how they compare with each other

Related costs and time frame

Mainstreaming scaling: Best address issues

Mining Future
Business decision makers, developers, and even investors are likely to benefit from this conversation.
Track Three: Investing in Blockchain
Blockchains powered cryptocurrencies hugely impacted the investment market. It is also the part of blockchains that most interests the regular users. If you are looking to capitalize on blockchains and cryptocurrencies, then this section is perfect for you.
Traditional investors, VCs and angel investors

Business models and deal structures
Answers to questions like these will help you become a more educator investor in the market.
Track Four: Blockchain in the Public Sector
Ironically, Governments are also taking a keen interest in decentralized ledger technology. Here you will be able to learn how smart governments are planning to use blockchains in delivering better public service and how the technology is set to impact our everyday lives.
Tack Five: Regulatory Environment
Blockchains are surrounded by laws and regulations that are still in the making, and as such create a lot of ambiguity. A lot of uncertainty exists which is not limited to ICOs but also extends to privacy, data ownership, customer protection, and so on.
In this section, you will be learning about the current regulatory environment surrounding blockchains which should give you an idea about future laws.
Developer Academy
Developer Academy will give provide a professional skills development platform and a stage for networking, where developers and engineers can get together and learn about writing smart contracts, developing DApps, and much more.