Blockchain for Business Summit 2020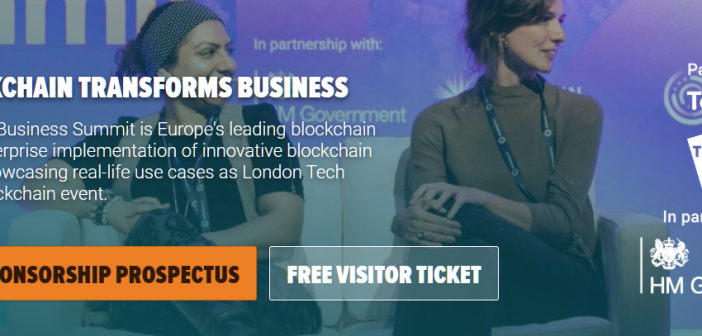 Blockchain for Business Summit is a part of the TechXLR8, a blockchain-based event that is going to take place at ExCeL, London, from 2-3rd September 2020.
Update: They now have shifted their summit from offline to completely online. Yes, they are going virtual. They have come up with this update in the response of the COVID-19 pandemic and their initial decision of postponing the conference is now changed to meet the new standard in conferences, i.e., going virtual.
They are currently working hard behind the scenes to plan the virtual event and manage it optimally. 
It is one of the leading blockchain events in Europe. The main focus of the event is to showcase real-life use cases for innovating blockchain technologies and their enterprise implementations. They will discuss the topic in their week's long flagship event.
Initially, the event was scheduled in June but was postponed due to the global pandemic. They consulted their advisors and partners and have come up with the new dates in September this year.
More About Blockchain For Business Summit
The summit is very popular in Europe. Earlier, it was known as Blockchain 360. It is also part of the London Tech Week's flagship event.
The focus of the event is to focus on real-world use cases rather than the cryptocurrencies, speculations, and hype. The real-world use cases will be shared by the business and industry leaders. 
The attendees will also be able to get access to the TechXLR8 expo as well where they will discuss other popular topics such as IoT, AI, and, so on!
Blockchain For Business Summit Speakers
At the event, you will find the best minds to share their experience. Some of the notable speakers that are taking part in the summit include the following:
Maher Chebbo, GE Power, GM, and Global Chief Commercial/Innovation Officer

Maarten Ectors, Chief Innovation Officer, Legal and General,

Odile Panciatci, Blockchain Vice President, Groupe Renault

Marina Gomez de la Villa, Distributed Ledger Technology Program Director, ING

Julian Gray, Technology Director, BP

Ville Sointu, Head of Emerging Technologies, Nordea

Nitin Manoharan, Director, Global Head Enterprise Architecture & Tech Innovation, Philip Moris International

Ioana Surpateanu, Co-Head of European Governmental Affairs, Innovation Strategy Lead, Citi

Shahar Steiff, AVP New Technologies, PCCW Global

Daniel Mast, Head of L&S Innovation & Tradelines Technology Strategy

Luis Velarde Tazon, Head of Talco Cloud, Telefonica

Kathrin Kind-Tueller, Management Projects Digital Processes, Volkswagen AG
Networking
At the event, you will be able to network with the best minds from different verticals including
Finance

Banking

Insurance

Supply Chain

Real estate

Healthcare

Retail

Agriculture

Oil & Gas

Education

Government

Hospitality
And so on!
Agenda
The agenda of the conference will be as follows. 
Registration at TechXLR8 → 09:0 to 9:10

Chairman's Opening Remarks → 0:00 to 09:15 by Kate Baucherel -- Digital Strategist, Galia Digital

Keynote: Bolstering Legacy Systems Using Blockchain Technology → 09:15 to 09:35 by Maher Chebbo, Global Chief and GM, GE Power

Keynote: Examining the Potential of Blockchain To Disrupt Industry → 09:35 to 09:55 

Keynote Panel Discussion: Blockchain Deployments Economic argument by 

Kate Baucherel, Digital Strategist, Galia Digital

Mariana Gomez de la Villa → Distributed Ledger Technology Program Director, ING

Vilie Sointu, Head of Emerging Technologies, Nordea

William Lovell, Head of Future Technology, Bank of England

Odile Panciatici, Blockchain Vice President, Groupe Renault

Keynote: How Blockchain Will Enable The Energy Transition → 10:20 to 10:40 by Julian Gray - Technology Director, BP

Refreshment & Networking Break → 10:40 - 11:00

Fireside Chat: Which Blockchain Solution Should Enterprise Use? → 11:00 to 11:20 by Mahesh Sashital and Yves-Michel Leporcher
And more! 
Blockchain for Business Summit(Including TechXLR8) In Numbers
Attendees → 17000+

Exhibitors → 300+

Speakers → 600+