AMSTERDAM FINTECH FORUM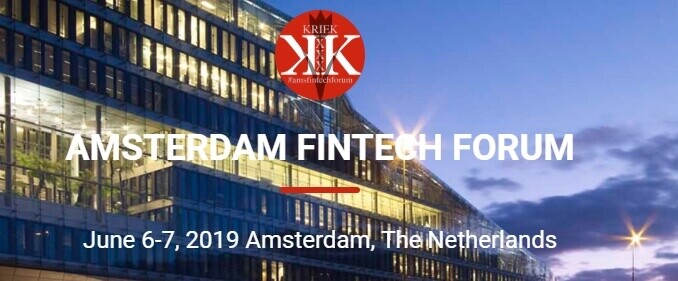 Amsterdam Fintech Forum is a two-day event that is going to take place in Amsterdam, The Netherlands from June 6-7. The focus of the conference is the Finance world where the top level C-Suite will share their view on the finance world. They have grown tremendously in the past couple of years, and they have doubled in size when it comes to their latest conference. In this conference, they will have 50+ panelists/speakers and 300+ delegates who will share and learn new knowledge about FinTech and other technologies such as blockchain.
They will share their knowledge about the ever-changing economic climate including innovation and the limitation that a business has to endure in the current environment. Digitalization has also become an important thing which was discussed in the last event. It will stay a hot topic in the event as well. In the end, it is all about learning how the finance world will change.
Agenda
The agenda of the conference will consist of many pressing topics including How companies do innovation, blockchain success, bridging the gap between social and banks application and much for the first day.
The 2nd day will consist of topics that discuss the risks and opportunities in the finance sector, IBM Watson Financial Services, and much more!
If you want to know more about the agenda, then we recommend checking out their official website for the full list.
Speakers
There will be some prominent speakers on the stage of the Amsterdam Fintech Forum. Some of the key speakers that are confirmed to speak in the event include the following.
Duena Blomstrom - Public Speaker, Emotional Banking Author
Paola Sironi - IBM Industry Academy and Author
Ali Niknam - CEO and Founder, bunq, Netherlands
Dr. Sanjeev Kanoria - Vice Chairman and Owner, Austrian Anadi Bank, Austria
Marleen Evertsz - CEO, Nxchange, The Netherlands
Amir Arooni - Group CIO, NN, Netherlands
Artie Debidien - CIO, NIBC Bank, Netherlands
Guillaume Lagrave, CRO, Consors Finanz BNP Paribas, Germany
May Michelson - Head of Business Development Europe, PayKey, Israel
Floris Van Ommeren -Strategic Partnerships Head, AMRO Bank
and many more!
Venue
The venue of the conference is the ING House. It is one of the best places to have the conference in and also have great architecture.
Should you visit the event?
Amsterdam Fintech Forum is one of the best FinTech related events that will also discuss the blockchain.