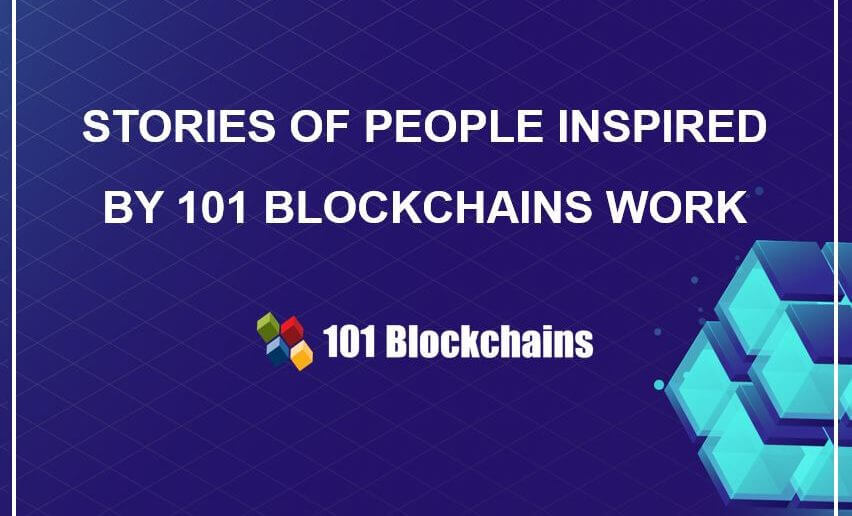 Stories of people inspired by 101 Blockchains work
This is Why We Do What We Do 🙂
---
101blockchains is a terrific starting point to make sense of all the crypto-hype that crowds the airwaves. The website is well organized, broken down by topics and knowledge levels. Free webinars are a super nice plus because you can hear everyone's questions and participate in a conversation that further clarifies a concept. Thank you 101blockchains for leaving a mark in this new wave of digital transformation!
Adrian Rizo
Senior Product Manager, Custody & Trading.
Charles Schwab
---
101Blockchain helped me get up to speed on blockchain and distributed ledger technologies. Practical information from people with hands on experience coupled with state of the art infographics. I am recommending Aviv's 101Blockchain guides, reviews, and opinions as an always up to date source of information on blockain and DLS related technologies.
Patrick Wolf
Deputy CTO
ASG Technologies
---
101Blockchain is a comprehensive website for all things relating to blockchain and its associated technologies. 101Blockchain is a great place to start your quest for knowledge and understanding with all aspects of blockchain and is packed with excellent infographics and user guides that will help you get up to speed.
John Callaghan
Programme & Project Manager
SP3 Consulting
---
My recent experience with 101Blockchains makes me recommend their content to anyone looking for an approachable and accurate source for blockchain education. Knowledge is not an exclusivity, so I'll be happy to point 101Blockchains to those of you are just diving into blockchain digital transformation.
Enrico Camerinelli
Sr. Research Analyst Europe
Aite Group
---
101Blockchains makes blockchain simple. Their content is easy to understand and spot-on accurate. They are a trusted source for blockchain education for anyone, with or without technical background. I often recommend 101blockchains to my friends, acquaintances, and clients who are just diving into blockchain digital transformation.
Rajwant Singh
Healthcare IT Consultant
Lexicon Healthcare IT Consulting
---
I follow Aviv on his 101 Blockchains project almost from the beginning. I have learned a lot with his articles and information and his extremely clear creative graphics with accurate information and a holistic way of explaining this new and disruptive Technology which really makes it a pleasure to study with him. I appreciate very much the effort and dedication that Aviv puts into his work, and that he delivers it to us with open hands! May everything you give us return to you in triplicate! Thank you and go ahead with success!
Ilana Moncarz
Projects Manager & Blockchain Adviser
Nogaplus
---
I really appreciate Aviv's 101Blockchain training. No hype and to the point with exceptional infographics. I highly recommend them for anyone who is looking to learn more about the blockchain!
Greg Phillips
Think IT Data Solutions
---
Support our work and contribute a testimonial
---
Blockchain has a long learning curve, but there is a guaranteed way to make it short: 101 Blockchains Training! It doesn't matter that you are working on asset-oriented blockchain domain or process-oriented blockchain domain, you can boost your learning process and keep yourself update if you follow the 101Blockchains roadmap. Thanks, Aviv, for sharing knowledge impressively.
Madjid Tehrani
Blockchain Architect
Chainstep GmbH
---
101 Blockchains provides a comprehensive understanding of how blockchain works. They provide technical understanding of each component of blockchain that can be captured easily by individuals with non-technical and technical background. I have been recommending their platform for friends, clients and individuals willing to learn and be updated with informations about blockchain and I'll continue to do that.
Ali Musa
Innovation Manager
DLT Africa
---
101 Blockchains has helped me to learn about the most important blockchain topics and how to apply them to my every day life which goes around this fascinating and disruptive technology. I love the accuracy and clearness the different topics are explained and how my knowledge has been developed and reinforced. If we want blockchain technology to be adopted, it's necessary to have education first. 101Blockchain has made it easier for me. I appreciate the effort you are making.
Juan Francisco Bolaños
Blockchain Business Developer
Kruger Corporation
---
I have taken several courses on Blockchain tech, what it is, why it's useful, and where it's going from professors of prestigious universities worldwide. 101 Blockchains uses infographics, webinars and their own links to information and makes it even more simple. Aviv explains the overall encompassing industry of Blockchain in a better and more understandable way using clear and accurate articulation that anyone from any background can understand.
Yamiz Bachkhaz
FinTech Connector, Community Partner
---
Since I started research on Blockchain technology, 101 Blockchains has been my bible. It is the best support to explain simply the key concepts and latest developments.
I follow Aviv with great interest and can only recommend the same to anyone who would like to understand and master the great world of Blockchain.
Christophe VIGUERIE
Founder at Tech & Co
---
Support our work and contribute a testimonial