World Blockchain Summit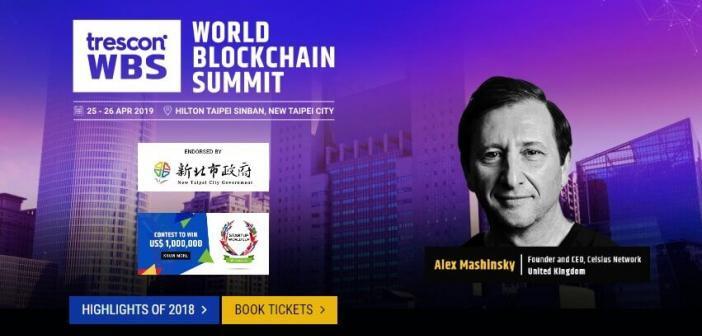 World Blockchain Summit is one of the leading blockchain conferences out there. It will take place on 25-26 April 2019 at Hilton Taipei Sinban, New Taipei City.
The main attraction of the summit is the speakers themselves. Speakers such as Hou, Yu-IH, Mayor of the New Tapei City and John MacAfee, the founder of the McAfee associates will speak on the global platform.
What is World Blockchain Summit?
World Blockchain Summit is a global gathering of innovative leaders in the blockchain space across the world. Its next stop is at New Taipei City which is just one of the 10+ destinations that the summit takes place. The aim of the summit is to connect the global leaders, blockchain gurus across different sectors and startups. It can be related to government authorities, regional business, investors, entrepreneurs, and blockchain developers.
The summit will cover a lot of use-cases, both at government and enterprise level. Other than that, it will also bring panel discussion, blockchain exhibition, and much more!
A great network
World Blockchain Summit is extremely popular across the world. That can be understood by the fact that they have a general media reach of 25 million+ and a targetted media of 33 million+. Not only that, they are extremely popular on Twitter and Linkdln with followers of 400k+ and 350k+ respectively. This numbers only proves the quality of the conference.
Featured Discussions
The summit will have a lot of featured discussions. Let's list a few of them below.
Blockchain: A new dawn
Making the switch to STO's in 2019
Trends in Enterprise Blockchain Implementation
DAICO Model: A new way to secure and raise funds
Unlocking blockchain based approach for smart cities.
The current state of scalability
Digital Assets
Vision for Crypto Exchanges
Tokenization
Blockchain: A new dawn and blessing for AML and KYC
Blockchain for biometrics
And much more!
Competitions
You can also take part in the competitions held at The WBS. You can compete at the Startup Grand Slam and the Startup World Cup. From these two events, you can win $10,000 and $1,00,000 respectively. All you need to do is apply to each of the competitions and hope to get selected. If your pitch is good, you will surely get an entry to the competition.
What's the WBS offer for the different sectors?
So, you might be thinking whether WBS is for you? Let's understand it from different industry perspectives.
Governments:  Learn how to draft new policies and rules, improve workflow automation with reduced cost, get access to thought leaders and supporters, improved cost management.
Entrepreneurs: The ability to pitch investors and top-notch advisors, get coverage from tech-bloggers, improve potential collaboration with other world-class contractors
Investors: Investors can also benefit immensely from the WBS. They can meet founders and other investors and learn from their insights on investment, explore opportunities to invest and exchange ideas.
Influencers: Influencers can also benefit considering they can leverage the content and get more media presence, meet global leaders and engage with startups, enterprises, and government.
Location
The location keeps changing as it is a worldwide summit. The next conference is held in Taiwan. It is 180 Km east of China. The next summits will take place in India(20-21 June 2019), Berlin(27-28 June 2019), Singapore(25-26 July 2019), Dubai(23-24 Oct. 2019)
Pricing
Regular pass: $100, conference sessions, exhibition area, but no access to refreshment and lunch area
Delegate pass: $295 early bird, lunch on both days, coffee breaks for networking purposes, two-day access, access to speaker lounge and investors
Exhibitor package: $4000, comes with pre-event, at event and post-event benefits.
Supporting partner package: $2000, get listed at supported, 5 full access passes, and much more!
Statistics
Attendees: 15000+
Investors: 1500+
Speakers: 500+
Exhibitors- 450+
Media Partners - 200+