IEEE GLOBECOM 2019 Workshop on Blockchain in Telecommunications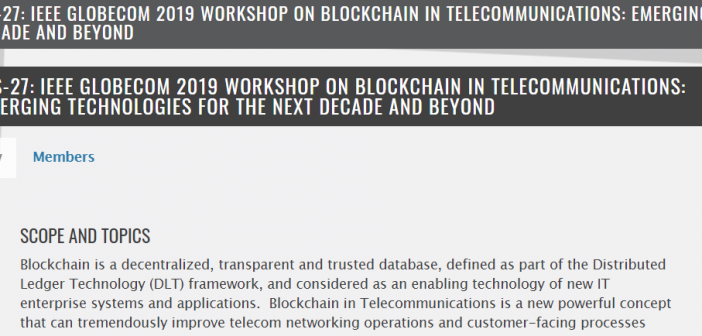 IEEE Globecom 2019 Workshop is a workshop that is going to take place on the Blockchain in telecommunications. It is a five-day workshop that is going to take place in Waikoloa, HI, USA. So, if you are someone who is interested in Blockchain and telecommunication can benefit immensely from it.
Scope
The scope of the workshop is to explore Blockchain, a trusted, decentralized ledger system that enables the business to grow beyond its current system limitations. They will explore a distributed ledger technology(DLT) framework, especially in the Telecommunication sector. It is a new revelation for the Telecommunication sector, which is currently facing multiple issues, including customer support, security, transactions, and so on. 
Blockchain can be used to enhance the telecommunication section by solving critical issues related to Operations Technology and Information Technology. It will help provide solutions to customer identity management, fraud prevention, mobile payments, and so on. The scope is around Blockchain uses in telecommunication. Also, Blockchain is in the nascent stage, and that's what makes it more challenging to implement and validate.
Topics
The topics that the IEEE Globecom Telecom Blockchain Workshop will cover include an introduction to Blockchain, its application to Telecommunications. They will also discuss the challenges and emerging trends. The topics are selected in such a way so that you can learn a better perspective of emerging technologies and their application in Telecommunications.
To get a better idea, let's go through the list of topics that are going to be covered. The list is not exhaustive, and there might be more topics that can be covered at the event.
Blockchain Telecom Emerging Technologies

Blockchain Telecom Regulatory Requirements and Challenges

Blockchain Telecom in Communications and Home Automation

Blockchain in Cloud Technologies and Networking

Blockchain Telecom Performance, Scalability, and Privacy

Blockchain Telecom Interoperability

Blockchain in 5G Technologies

Blockchain Telecom Enterprise Applications

Blockchain in Telecommunications Customer Management, Operation, and Process

Blockchain in IoT

Blockchain Telecom Pilots and Applications

Blockchain Telecom Cybersecurity
Program/Agenda
The agenda of the workshop is as below.
13th December 2019, 2:00 PM to 5:30 PM
Session 1: Telecom and Blockchain → 2:00 PM to 3:30 PM
→ Blockchain For 5G: Challenges and Opportunities
→ Virtualized Blockchain Framework for 5G Data Networks - Microservices
→ Distributed Bilateral Resource Market Mechanism -- Telecommunications Future Networks
→ Bilateral Distributed Resource Market Mechanism
Session 2: Authenticity and Security → 4:00 PM to 5:30 PM
→ Gnomon
→ Self-Organizing Decentralized Wireless Network
→ Blockchain Collaborative Defense, Threat Management Dashboard
→ Internet of Underwater Things: Energy Efficient Decentralized Authentication
Workshop organizers include Fred Douglis from Perspecta Labs and Claudio Lima from Blockchain Engineering Council.