Unchain Berlin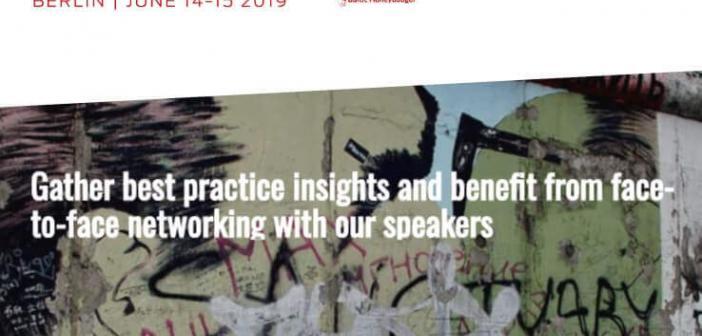 UNCHAIN Berlin is an excellent bitcoin and blockchain convention that is going to take place in Berlin from June 14-15 2019. The conference enables the attendees to witness the world's leading blockchain entrepreneurs, tech developers, investors, and blockchain enterprises. It also ranks within the top 10 blockchain events around the world.
The UNCHAIN Berlin conference is limited to only 500 attendees which makes it more unique than others. Generally, there is no limit on how many people can attend the conference, but Unchain Berlin is limited to 500 attendees. There will be 30+ speakers from 20+ countries that will share their experience with the general audience.
The two-day conference will also feature the world's leading blockchain and cryptocurrency entrepreneurs. Unchain Berlin aims to provide a platform where anyone can connect with the leading industrial players and experts and discuss important aspects of the distributed ledger technology.
Topics and Agenda - Blockchain Conference Berlin
The topics that will be covered in the conference will include the following.
Scaling and privacy for Bitcoin & Co -- here they will discuss the science and technology part of bitcoin.
The speakers will also look into the impact and future of blockchain and cryptocurrencies
Best practices will be discussed with the help of business models and blockchain use cases
Discussion about socio-economic frameworks related to the blockchain
Understanding the financial and investment aspect of bitcoin and other cryptocurrencies.
Day 1- In the first day, they will be exploring how bitcoin and other cryptocurrencies can be used as payments and cash. Other key questions that will be answered on the first day include the following.
How the cryptocurrencies and bitcoin serve 8 billion people regularly?
How and where we can get back our transaction freedom and privacy
They will also focus on the scalability and fungibility of blockchains and bitcoin.
Day 2- Day 2 will be focused on the real-world impact of blockchain technology and cryptocurrencies. They will also try to understand the socio-economic impact as well as the market development by focusing on emerging blockchain real-world use-cases. They will also focus on how the blockchain technology will impact the future generation.
Networking
At UNCHAIN, you will get the chance to network with fellow attendees. Not only that you will also be able to interact with speakers and also connect with entrepreneurs, startups and much more. In short, you will get a thriving networking environment where you can properly explore your options.
Speakers
Many popular speakers will be part of the UNCHAIN convention. The most notable ones include the following
Brock Pierce - Chairman, Bitcoin Foundation
Alena Vranova - Founder, TREZOR
Tone Vays, Bitcoin Enthusiast and Wall Street Veteran
Hans-Werner Sinn, Economist
Rosine Kadamani, CEO and CoFounder, Blockchain Academy Brazil
Hartej Sawhney, CEO, and Co-Founder, Hosho Group
any many more
Registration
The registration process is simple. All you need to do is go to their website and buy the tickets. The tickets pricing are as follows.
Early Standard Ticket - 2-day conference plus aftershow party - 600
Early Crypto Ticket  - same as the standard ticket - 0.1 BTC
Experience Ticket - same as standard ticket plus Welcome Dinner, Riverboat Cruise with speakers.
You can also order one-day ticket at 350 Euro for each day.
Should you attend UNCHAIN?
UNCHAIN is a promising convention where you can meet people who directly influenced the blockchain revolution. They also offer good ticket pricing and the ability to network with the attendees, speakers, startups entrepreneurs and CEOs.