Transylvania Crypto Conference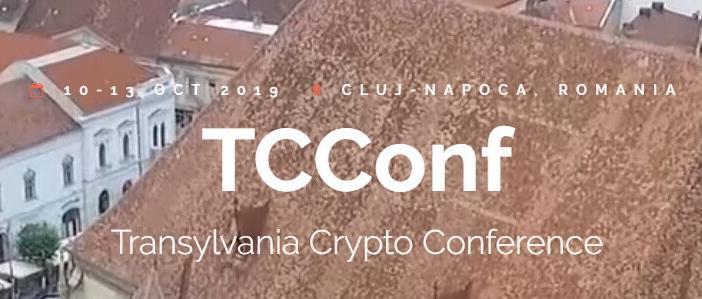 The Transylvania Crypto Conference 2019, is scheduled as a 3-day event at Cluj - Napoca., Romania starting on 10th Oct 2019. Also known as TCConf, it is the first major event on cryptocurrency and blockchain taking place in the Transylvania region - the European youth capital of 2017. The city is host to thousands of IT startups, ICOs and a budding ground for blockchain technology in eastern Europe.
As such, Transylvania already holds a "smart city" status, and the event simply aims to bring more awareness on the modern decentralized technology and its future potential. This is achieved by bringing together various professionals capitalizing on blockchains and cryptocurrency to share their knowledge and clear doubts.
Speakers
Attendees will find a huge congregation of a wide variety of speakers together with technical engineers, bitcoin professionals, cybersecurity professional as well as business owners.
A few notable individuals from the collection would include names like:
Peter Todd - Applied Cryptography Consultant

Wassim Alsindi - Cryptocurrency Analyst & Researcher

Andra Nicolau - Business Development Head at 20|30 and Pillar Project

Marc Kenigsberg - Founder of Coinjanitor

Hartej Sawhney - Co-Founder of Hosho

Travin Keith - CTO at Consortia Group

Veronica Mihai Das - Founding Partner at Bloomwater Capital

Thomas Hunt - Found of the World Crypto Network

Vlad Costea - Editor at CryptoInsiderHQ
And many more.
Agenda
The event is scheduled to start on Oct 10th, 2019, around 12 noon. Attendees will gather at Cluj Napoca. from where the event takes off. For the next 3 days, get ready to learn from the experts about blockchains, and cryptocurrency, alongside having ample time and opportunity for networking and expanding your connections in the community.
Tickets
Ticket price for the Transylvania Crypto Conference is $325 + Vat. For the price, users will get access to regular seating, conference workshops, buffets, networking tables, after-party, and a surprise trip. The tickets are priced nicely and we think that if you have the budget, you should experience it and learn about the crypto world!