TNW 2019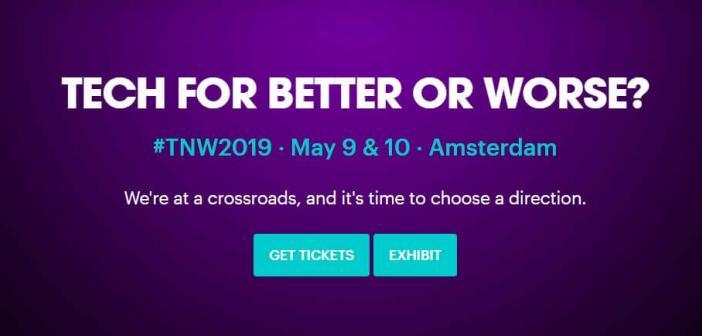 TNW 2019 is one of the largest tech events around the world. TWN stands for TheNextWeb, which is a media company that started just like a blog. Right now, they run a media company which have multiple operations running them.
Their good stance on the internet world has also given them the ability to host one of the top tier conferences, i.e., TNW2019. It will cover everything related to tech including blockchain, artificial intelligence, Web 3.0 and much more.
The 13 Tracks and Speakers
The main attraction at TNW 2019 is the plethora of themes that they have to offer. They have covered most of the major themes that are currently making a big impact on our current industry and daily lives.
Main Stage - In this track, they will share the vision of the future and also discuss some inspiring stories. The lineup includes Cassie Kozyrkov, James Bridle, and Gillian Tans. It will be held on the main stage on 9th May from 9.45 onwards.
Rebrand -Rebrand is where new marketing strategies and technologies will be discussed. They will explore the role of AI and automation in marketing. It will be hosted by Toke Nygaard, Purna Virji, and Emanuele Madeddu.
Future of Work: It is an important topic that discusses how our work culture will be impacted with the help of technologies. They will discuss the transformation to different sections of HR to administration. It will be hosted by Scott Snyder, Karen Wickre and Ali Rayl.
Trade: Trade is what flows the economy. The likes of Alisha Choong, Daria Tataj and Robert Metzke will share their insights on how technology and business are the driving force of our daily lives and society. The section is bought you buy no other than Financial Times
Sprint: Spring covers how digital products are shaping our daily life. Here experts, Andreas Gall, Johnathan Rochelle, and Stephanie Hannon will discuss how big brands achieve great digital products.
Future Generations: Future generations focuses on the most pressing issues that need to be solved for a more sustainable future. James Beacham, Jessi Baker, and Martine Jarlgaard will cover Future Generations.
The other tracks that are part of the event include the following
The Next Women by Emilie Tabor  and Corinne Vigreux
Growth Quarters by Alice Zagury, Ankiti Bose, and Jitse Groen
Checkout by Amit Sharma, Jack Constantine, and Stacia Carr
Hard Fork by Jackson Palmer, Larry Sanger, Elliott Callender
Art of Tech by Madeline Gannon, Luba Elliott, and Rama Allen
Machine: Learners by Gilad Lotan, Jonathon Morgan, and Jane Zavalishina
TNW X by Ulla Riber, Jacques Van Den Broek, and Jason Williamson
Tickets - Blockchain Event Amsterdam
The tickets to the conference are affordable. Let's list the ticket types below
Expo - 149
One Day - 499
Full Pass- 649
Growth Pass - 999
All prices are in Euro.
Programs
There will also be many programs that will run across the conference. These programs are to improve engagement within the community by finding unique people across different sections. Let's explore more.
T500 - 500 best under 26s
Startups - For startups to make the right connections through networking
StartupCity Summit - A summit where the leading city delegations and the government will discuss future tech.
Corporates - A collaboration for corporates with startups to solve their problem
Delegations - Government delegations to attract startups
Policy-makers - Policymakers that affect the future of technologies
Investors - For investors to fund new business and startups.
Should you attend TNW2019?
TNW2019 is an amalgamation of tech enthusiasts, tracks, and content that can help anyone who wants to invest in current tech and its future. So, if you are interested in tech, you may want to attend TNW2019. What do you think?