Telco Blockchain Forum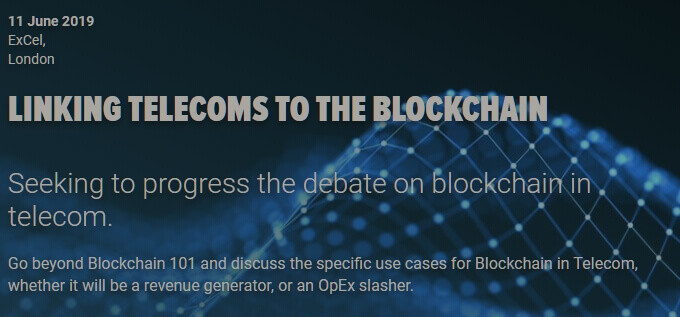 Telco Blockchain Forum seeks to link telecom to the blockchain. The platform will offer the attendees to learn and explore the debate on blockchain in telecom and its progress. It will go beyond the blockchain 101 and discuss the more specific Blockchain and Telecom use-cases -- it doesn't matter if it is OpEx slasher or revenue generator.
The conference will be co-hosted along with 5G World.
Statistics
Telecoms and Blockchain professionals - 150+
Speakers and thought leaders - 30+
Operator attendance - 50%+
Experts on the conference
There will be many experts on the show floor of the Telco Blockchain Forum. Let's list a few of them below.
Federico Homberg - Head of Business Development -Deutsche Telekom
Nick Todorov - CEO, Limechain
Yiannis Giokas - Vice President, Research & Development, PCCW Global
Dr. Alexandra Mikityuk, Head of Blockchain Group, Deutsche Telekom Innovation Labrotraries(T-Labs)
Gautam Hazari - Technical Director - GSMA
Roberto Gavazzi - 5G, Smart City and Industrial Internet Senior Program Manager, TIM
Isabelle Paradis - President - Hot Telecom
Paul Overbury - Senior Technology Expert, Ofcom
Key Themes
There will be many critical themes in the conferences. They are listed below.
The Business case for Blockchain
Blockchain adoption in telecommunications vertical
Blockchain adoption and Drivers: Tech and Business Imperatives
Cross Industrial Blockchain Initiatives
Blockchain for supply chain management and opex reduction
Internet of Things(IoT) and Blockchain
Blockchain as a Service model
Blockchain for identity management
What to expect from the conference
The conference will offer a lot of things including the following
Expert workshops - Here you will learn about how blockchain can be used in telco, its profit, pain, and potential. It will be taught by experts where you will be focusing on the preliminary background and business cases.
Business cases - The forum will shift its focus from the basics to the specific use cases in telecom.
Networking -You will be able to join a fantastic community and network with other peers who think alike.
Roundtables - Proper discussions with peers will be provided.
Cross-Industry Discussion - A cross-industry discussion about better opportunities and challenges.
Tickets
The tickets are priced at £546.00 if you register before 10th May. They also have other packages as below
Telco Blockchain Conference Pass - £799 + tax
Telco Blockchain Forum & Blockchain for Business Summit Conference Pass - £1449 + tax
Telco Blockchain Forum and 5G World Summit Conference Passes - £2195+ tax
Should you visit Telco Blockchain Forum?
Telco Blockchain Forum offers a unique outlook at the blockchain role in telecommunications. if you are curious about the topic, then we recommend checking the conference.