Synchronize 2020 DLT Conference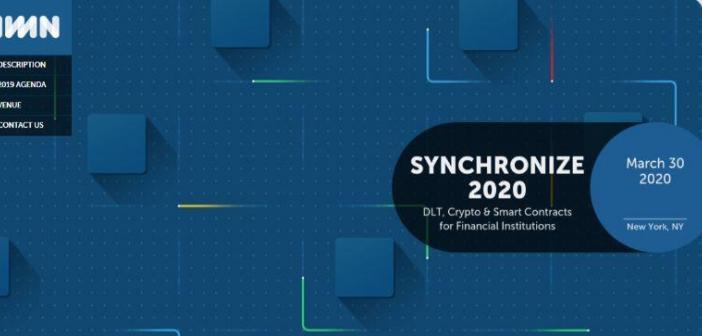 Synchronize 2020 is scheduled as a key Blockchain event for people interested in topics like DLTs, blockchain applications, smart contracts, and tokenization. It is all set to take place this March 30th, 2020 at New York City grounds.
As we all know, Blockchain and all its potential use-cases have already started to disrupt the financial sectors. This year, 2019, has been evidence of the fact of how Blockchain is being integrated by major FinServe companies which are providing services like instant invoice processing and improved accounts receivable operations. 
According to a recent ABI Research analysis, Blockchain empowered projects are expected to surpass over $10 billion in revenue by the year 2023. Gartner has also forecasted that the total business value of Blockchain will exceed over $3.1 trillion in the next decade.
As such, Synchronize 2020 hosts the perfect platform to get industry insights straight from the leaders.
Speakers
Looking at Synchronize 2020, you can expect a wide entourage of speakers taking the stage this time around. But with that being said the complete list of speakers still hasn't been released by the organizers. 
However, here we do have some early confirmed names to help you get an idea of what to expect at the event.
Peter Hiom - Deputy CEO, ASX

Yuval Rooz - Co-founder & CEO, Digital Asset

Michael Bodson - President & CEO, DTCC

Amy Davine Kim - Chief Policy Officer, Chamber of Digital Commerce

Thomas Zeeb - Head Securities & Exchanges, SIX Securities Services

Sunil Challa - Directory and Business Architecture, Barclays

Kari Larsen - Partner, Perkins Cole

Emmanuel Aidoo - Head of Digital Asset Markets, Credit Suisse
With more names to be announced.
Agenda
Since all the speakers haven't been announced yet, we still don't have a clear picture of who is going to speak when. However, following how the events were conducted during previous years, we can guess then it is going to start at around 8:00 am with breakfast and registration.
Following this, all the speakers are going to take the stage and share their industry insights and thoughts on how blockchain is impacting the FinServe sector. Time will be allocated in-between the talks for coffee breaks and lunch which are also going to double up as a networking session.
Some of the notable topics that are going to be discussed include:
How Blockchain Solutions will look like in 2020.

How to Integrate DLT-based application to the FinServe sector.

Tokenization and what sort of legal and regulatory framework needs to be built around it.

Innovation in Open-Source and interoperability.

What we need to do to make Blockchain applications enterprise-ready.
And so on.
Who Should Attend?
Anyone who is a stakeholder in matters related to blockchain, especially its impact and future in the financial industry, will benefit from attending Synchronize 2020. 
The event is going to feature professionals, innovators, and thought leaders, and showcase practical examples and case studies on how DLTs, smart contracts, and tokenization are being integrated into FinServe companies.
As such, if your company or organization can benefit from all these innovations, or if you want to learn first hand from the implementors, then this is the event for you. 
Furthermore, since this is a one-day event, networking opportunities are going to be limited. However, if you think you can make most of the time and want to make connections with key professionals attached to the top FinServe companies, then you can consider to mark down Synchronize 2020 on your calendar.
Ticket Prices
Ticket prices start at $995 for startups and financial institutions. However, if you get a ticket before 20th Dec, then you will get a discounted price of $595.
Standard registration ticket prices are set at $1395 with an early-bird discounted price at $1195 for people buying before 20th December.