Supply Chain on Blockchain Conference 2020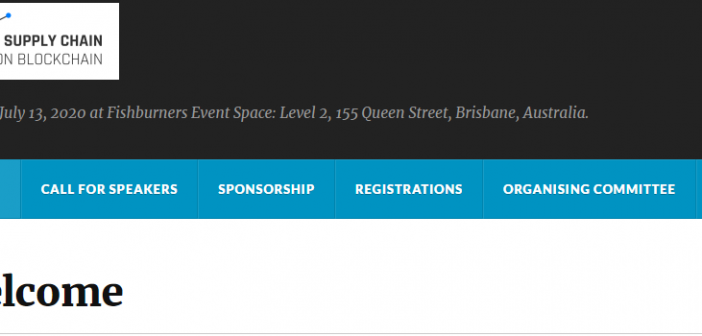 The Supply Chain on Blockchain Conference 2020 is going to take place on July 13, 2020. It will take place at the Fishburners Event Space, Brisbane, Australia. To improve the knowledge about the event, there will also be pre-conference webinars. These webinars are as follows.
Overview of Supply Chain by Dr. Valeri Natanelov 

Introduction to Blockchain by Peter Robinson
Vision
The vision of the Supply Chain on Blockchain conference is to get together the researcher and supply chain users from academia and industry. They will also bring the best minds from blockchain platform companies, supply chain application companies, and government. Their focus will be on different topics, including deal negotiations, logistics, financing, and provenance.
Call for speakers
Currently, the conference is looking for speakers. The search will start in Feb and March 2020. So, if you wish to speak at the conference, then do check out their site from time to time.
The year 2019 also had some amazing speakers. They had over 23 speaking proposals with an acceptance rate of 56%.
Some of the 2019 speakers include the following:
Sallyanne Astill - 25+ years software industry experience

Carlos Hernan Cruz Casto, Chemical Engineer, Universidad De América

Michelle Forrester, Technologist, and Passionate Writer.
And many others
Registrations
The registrations for the event has not started yet. It will begin from April 2020. The price at the last 2019 conference was $40(normal) and $20(early bird)
Organizing committee
In the organizing committee, the following people are sharing their experience and expertise.
Peter Robinson, ConsenSys's Protocol Engineering Group, Applied Cryptographer and Researcher

Rob Dawson, Pegasys, Product Lead

Dr. Sandra Johnson, ConsenSys, Applied Researcher

Dr. David Hyland-Wood, Multi-Disciplinary Engineer, Brisbane, Australia.