Smart Contract Virtual Summit #0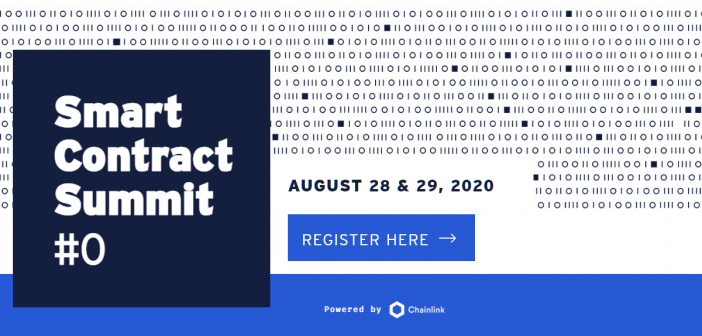 Smart Contract Summit #0 is a two-day event that takes place online. It is powered by Chainlink. Right now, we are living in a pandemic and that's why it is hard for organizations to step forward and go for an actual event. With Smart Contract Summit #0, they are trying to bring a virtual audience to their virtual event where they explore the latest happenings in the world of smart contracts.
At the event, you will be able to build and explore Smart Contracts and DeFI. By joining the event, you will become part of the largest decentralized finance (DeFI) conference that happens around the year. You can learn from the best minds in the DeFI community and learn what they are building!
The event is a result of the realization that decentralized finance and smart contracts are going to change the world around us by solidifying people's intent for a better future. The DeFi landscape is already seeing a sweeping change as new entrepreneurs are using their minds to create an innovative business with the new technology stack.
Networking and Reach
They are cultivating top minds to join and share their thriving journey with the people joining the event. At Smart Contract Summit #0, you will be able to meet with the Chain Link team, learn from the best minds, and also explore the dApps builders and what they think about game theory.
Speakers
There will be some world-class speakers at the event which you can meet and discuss your thoughts about the blockchain ecosystem. The featured speakers right now are as follows.
Sergey Nazarov -- Chainlink co-founder

Ari Juels -- ChainLink Technical Advisor

Ed Felten -- Arbitrum Co-Founder

Fernado Ribeiro -- Oracle

Aaron Wright -- OpenLaw, CEO

Camila Russo -- The Defiant Founder

Yorke E. Rhodes -- Microsoft Blockchain Co-Founder

John Wolpert -- Consensys, Global Product Executive

Will Harborne -- Diversifi, CEO

Jonny Huxtable -- LinkPool, CEO & Co-Founder

Camila Russo -- Defiant, Founder
And many more! With each passing day, new speakers are being confirmed and added to the list!
Smart Contract Virtual Summit #0 Statistics
100+ industry-leading partners and speakers

5000+ attendees
Smart Contract Virtual Summit #0 Agenda
As it is a two-day event, the agenda for both the days is as below.
28th August - Friday
DAOs Governing Real-world Assets

Yield Farming

DeFi Growth in the 21st Century

Top projects in DeFi

From Ce-Fi to De-Fi

Insuring Smart Contracts

Off-Chain Computation

Exploring ETH 2.0

Current State of Smart Contracts

Traditional Banking and DeFi

A Futuristic View of Networks and Society

Become an Enterprise Smart Contract Whisperer

The State of Automated Market Makers

Blockchain in China
29th August - Saturday
Global State of Blockchain

Privacy for the End-user

Gaming, Art, and NFT Collectibles

Chainlink Infrastructure

Global DeFi Growth

Sergey Nazarov Keynote

Random Number Generation

How DeFi is Building a New Tech Stack
Side Sessions Throughout The Conference
You can also avail side sessions that are carried out through the out conference. For instance, you will be able to access developers' workshops, networking, and speaker's AMAs. The list of side sessions for the Smart Contract Virtual Summit#0 are as below.
AMA with John Wolpert and Baseline

AMA with Justin Moses of Synthetix

NFTs with Alex Russman of Enjin

AMA with Alex Mashinsky of Celsius

Chainlink/RSK Integration Demo

Exploring BSN Network

LinkPool Deep-dive

SDL's Chainlink Oracle Reputation Deep-dive
Tickets
The event is free to attend as a general audience for a developer.