Paris Blockchain Week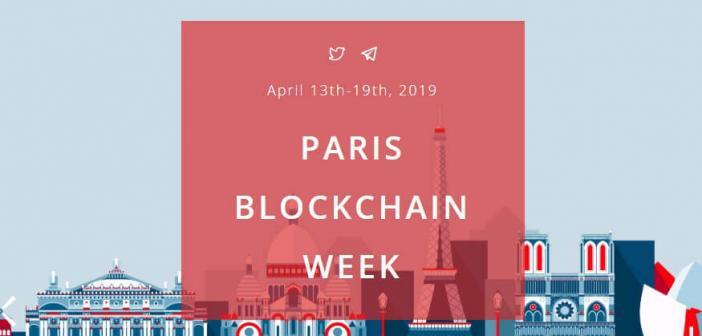 Paris Blockchain Week is a one-week conference which will be held in Paris. It is one of the biggest Digital Assets and Blockchain event in Europe and it is going to take place from April 13 to 19, 2019. During the week, a lot of different events will take place which will be managed by big blockchain organizations.
However, the flagship event would be the Paris Blockchain Week Summit that will take on April 16-17th. It will host the world's largest incubator in Station F.
So, what can you expect if you decide to be part of the event? If you do, you will be able to take part in workshops, hackathons, dinners, parties and of course meetups and keynotes.
You can use the one-week long conference to create life-long connections and use your networking skill to the fullest.
Schedule
To get a better understanding of what the Paris Blockchain Week has to offer, let's look at the schedule.
Cosmos/Tendermint Hackathon(13th-14th Apr.) - It is a hackathon held by the Chain Accelerator and Tendermint. The winner of the hackathon will take away the €10k prize. Any team who is participating in the event needs to create an entire blockchain using Tendermint/Cosmos.
Building the new web: Paris edition(14th April) - In this event, the organizer will explore a technical exploration about the decentralization world. Here the speakers will share their projects and showcase their technical aspects.
Paris Blockchain Conference(Apr. 15th) - The conference will focus on the different blockchain actors such as academics, regulators, experts, and entrepreneurs. It is an invitation-only event.
Paris Blockchain Week Job Fair(April 15th) - Here Datalents will offer Job Fair the candidates can apply for jobs for reputed blockchain openings.
The transformation power of blockchain(April 15th) - Here FrenchFounders, a 3500 French-speaking CEOs will share their vision about the transformative power of blockchain.
CryptoMondays Paris#14(April 15th) - Here you will be able to understand the development of crypto-asset ecosystem including developers, entrepreneurs, and so on.
PBWS - Speaker Dinner(April 15th) - It is an invitation-only dinner event with speakers.
ChainAccelerator - Demo Day(April 16th) - A demo day will be hosted by Europe's biggest blockchain startup accelerator.
Paris Blockchain Week Summit - (April 16th-April 17th): Paris Blockchain Week Summit(PWBS) is one of the most important events of the Paris Blockchain Week. It will have over 100+ speakers and 1500 attendees.
Fintech Nights by La Place: Investing in digital Assets(16th April) - La Place will host a speaker event which will be joined by top speakers from all over the world.
The Happy Hour(April 17th) - It will be hosted by the DATALENTS, an HR-Tech startup.
Binance x Woorton x Chain Accelerator(April 18th) - PBWS Closing Drinks = An invitation-only event held by the three blockchai companies where they host a private meetup for partners and clients.
TQuorum: Paris - Learn from Tezos subject matter experts and connect with them through the discussion about the Tezos ecosystem and development.
Blockchain: new generation new education(19th April) - The event will discuss the present and the future of the blockchain.
Dauphine Blockchain Day(April 19th) - Blockchain and DLTs impact on various fields will be discussed.
Tickets
PBWS - 2 Day full access - €1,697.00
PBWS - 1 Day full access - €1,697.00
PWWS - 2 Day startup pass - €1,697.00
and much more.
You can check the full range of tickets on their official website. They have a special discount for women in blockchains, developers, student and university staff.
Should you attend PBWS?
Well, the answer depends on what you are looking for. The event is full of content and value and that's why we recommend checking properly on what it has to offer. Only get the tickets if you think it fits your values and you have something new to learn.