Oslo Blockchain Day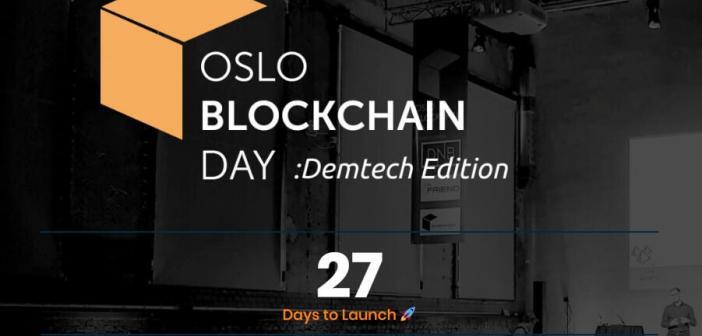 At the time of writing, Oslo Blockchcain Day is 29 days from launch. It is a Demtech Edition. According to the event organizer, we are moving in the wrong path, and it is up to us to build our economy using the current technology. Corporate surveillance is also taking away people's privacy, and the productivity of people are declining at a rapid rate. All of these can lead to inequality and unemployment. That's where the Osolo Blockchain Day comes in, by discussing new business development, technology, and social responsibility.
The Demtech Edition comes from new technology as DEMocratizing TECHnologies which shortens to DEMTECH.
Speakers
Many high profile speakers will join the fray and share their knowledge with the audience on the Oslo Blockchain Day. The speakers include the following:
Vinay Gupta, Mattereum
Katie Mills, SatateZero Labs
Walid Al-Saqaf - Sodertorn University
Leao Sande Gasnier - Altinn
Kaidi Russaleep - Funderbeam
Joh Ramvi - Block changes
Tracks
Tracks define the route a summit or conference takes. Oslo Blockchain Day also has some unique tracks to keep their attendees engaged and help them learn about new things. They are as follows
Humanitarian and Civil Rights
Legal & Regulation
Banking and Stable coins
Registries & Government
Tech Track
More About OSLO
OSLO is known for providing unique views on technology. They are doing it by solving one problem at a time. It is a great city and provides a unique take on technology.
Sustainable Growth: OSLO is one of Europe's fastest growing capitals that have also been able to sustain the growth without impacting its forest and cropland. It has great air quality, better transport, and a great active city life.
Education and Technology: The population in OSLO is among the highest when it comes to being educated about technology and also being an early adopter.
Startup Friendly: OSLO is a startup-friendly city where startups can grow from the facilitates offered there including incubators, accelerators, and co-working spaces.
Tickets
The tickets of the summit are as follows
Standard ticket:

€

410 - Full conference pass, breakfast and lunch included, gift and after party access

2+ tickets -

€328 - comes with 20% discount and need to use the discount code, "ticketpooling"
Learn & Build
You can also participate in "Learn & Build" where the top experts from BlockChangers, Parity, and Polakdot will teach the participants about cool things related to development.
You can also win 1-month slot office at BlockChangers. You can participate in Learn & Build without paying anything. It is free. However, it has limited capacity, and hence if you are interested, you should register for it asap by sending the Linkdln and Github account.
Should you attend Oslo Blockchain Day?
Oslo Blockchain Day offers a unique look at blockchain technology. There will be multiple tracks that you can participate in. Moreover, you can also take part in Learn & Build which offers a free way to build some cool stuff. The speakers at the conference also experience and you will surely learn something important.