Next Block Conference Asia 2019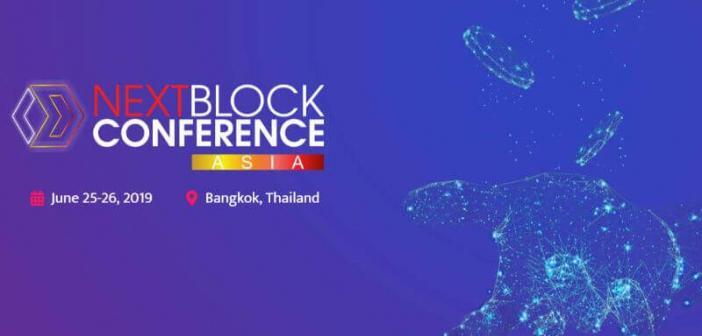 Next Block is one of the leading high-level business events in Asia and Europe with a focus on blockchain technology & cryptocurrency, and their impact of the financial sector as a whole.
This time around, co-organized by Krypton Events and CoinAdvice, the 5th iteration of the conference is scheduled as a two-day event from June 25th to 26th, 2019 at Bangkok, Thailand.
The event is set to bring experts from CRYPTO and BEYOND to deliver the best combination of Blockchain, CFD and Affiliates with a focus on the next generation of traditional finances.
Speakers
As you can expect, the conference boasts a huge collection of distinguished speakers including industry experts and thought leaders in areas of blockchain, crypto, forex, CFD, and affiliates.
Here is a quick look at some of the most influential names in the group.
Herbert R. Sim, TheBitcoinMan, Broctagon FinTech Group

Giacomo Arcaro, №1 European ICO Growth Hacker, ICO STO Advisor, University Professor

Tal Itzhak Ron, Chairman, and CEO - Tal Ron, Drihem & Co.

Neha Mehta, Founder of FemTech Partners

Chris Ziomkowski, Founder at XTend Online

Ralph Liu, Founder, and CEO, Mule Chain, Inc.

Tiago Costa Alves, VP Asia Pacific AppCoin

Mitchell Eaglstein, Co-Founder & CEO of FDCTech, Inc
And many more.
Agenda
The Next Block Conference is broken up into a two-day event, with day one focusing on blockchains and cryptocurrencies. This will include one presentation on the "Age of Tokenization" wrapped around two rounds of panel discussions.
Day two will focus on CFDs and Affiliates which will take place in the same format - Panel Discussion>Presentation>Panel discussion. Some of the topics expected to be discussed include the "increasing competition in the trading space" and the influence of "credible media" in the "Maturation, Growth and Adoption of Financial Services and Solutions."
Needless to say, on both days you will have access to lunch-breaks/networking-opportunities which you can use to foster strong business relations.
Why You Should Attend?
Wide range of opportunities for raising brand awareness, product presentation, and the likes.

Cocktail & Investor Networking Pre-Party.

Great After-Party which you can also use as a networking opportunity to talk with fellow businessmen and entrepreneurs about the context of the event.

NEXT BLOCK ASIA Cultural Day with an award-winning Co van Kessel.
Ticket Prices
Tickets are being distributed under three pricing models - Standard, Premium, and VIP.
The standard tickets are priced at $100 and give you access to all the important stuff.
The premium tickets bring a bit more convenience at $150 with a separate premium check-in desk and guaranteed seating in the first row.
VIP tickets, priced at $500, comes with all the goodies enjoyed by the premium ticket holders along with an exclusive invitation to the investor pre-party and an opportunity for face to face meeting with requested speakers, participants, and media.