Making Blockchain Ready for Mainstream – Free Blockchain Week Event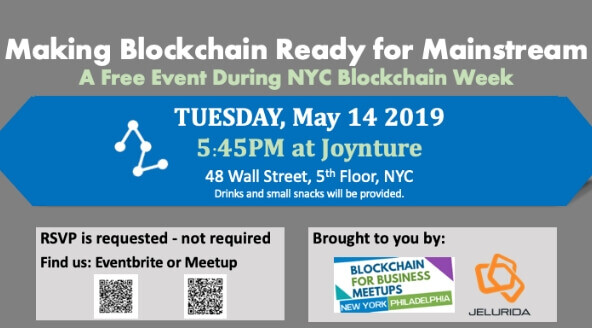 If you are interested in a Free Blockchain Meetup to learn about blockchain, then you can check out the "Making Blockchain Ready For Mainstream." The meetup is going to take place during the NYC Blockchain Week 2019 which is a one-week event.
The topics of the meetup will revolve around on how to build trust in blockchain technology. They will be standardizing taxonomies in developing features and industry. All of these topics will be focused on improving value to the end-user.
Event Agenda
The event agenda will be as follows.
5:45 - 6 PM: Drinks, Registration, Networking
6:00 - 6:10 PM - Blockchain for Business Group Introduction and Evening Overview
6:10 - 6:25 PM - Jack Purdy presents you the Voluntary Disclosures program
6:25 pm - 6:40 PM - Patoshi of Xcubicle discusses the mainstream blockchain adoption and privacy related to blockchain
6:40 - 6:55 PM - Barriers and Cases of blockchain adoption in the industry by Fordham Industry's Professor Benjamin Cole.
6:55- 7:10 PM - Skylar Hurwitz discusses the losing blockchain passphrases concerns and the inability to retrieve funds once sent.
7:10 - 7:40 PM - Q&A panel where speakers will answer attendees questions
7:40 - 8 PM - Drinks and Networking
Venue
The venue of the event is Joyure, 48 Wall St. New York, NY. The event starts at 5:45 PM and ends at 8:00 PM.
Should you attend the meetup?
If you are in New York during the 2nd half of May 2019, we highly recommend being the part of the meetup as it offers unique content. You will learn some basic concerns regarding blockchain and its adoption among masses. Also, the meetup is free!