ITNG-BT 2020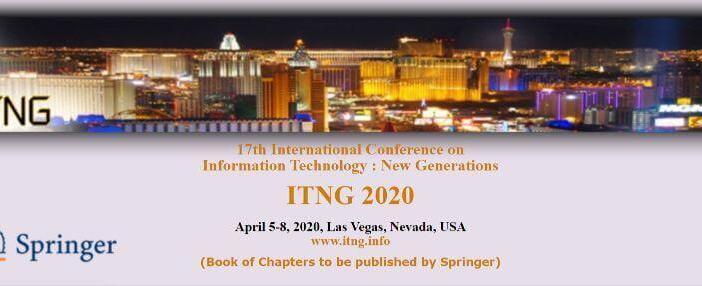 The Applications, Challenges, and Opportunities in Blockchain Technology is an upcoming Blockchain conference in association with the 17th International Conference on Information Technology: New Generations. Acronymed as ITNG-BT 2020, the conference is scheduled as a four-day event spanning from April 5th to 8th at Las Vegas, Nevada, USA.
Blockchain is gradually disrupting several industries as if it's the Second Coming of the Internet. Thanks to the Distributed Ledger Technology, we see promises of instantaneous transactions as well as data transfers that is highly secure, tamper-proof, and completely decentralized, without a third-party.
As such, the conference has been organized to bring together members from both academia as well as the industries to discuss the road to advancement with the technologies. 
Topics Of Interest
The conference is welcoming original research papers covering some of the major areas of Blockchain and DLTs. Some of the topics that are going to be discussed in the event include: 
A discourse on designing and engineering new architecture and protocols underpinning Blockchain.

How Blockchain can be combined with other emerging technologies like AI, IoT, Machine Learning, and so on.

Practical case studies showcasing the impact of Blockchain at a business, technical, and societal level.
Researchers are welcome to share any novel ideas or original research work that deals with any of the above-mentioned topics. 
Track Committee
The Track Committee is segmented into the governing organization committee alongside the technical program committee.
Organization Committee 
Kashif Saleem - Center of Excellence in Information Assurance (CoEIA)

Amjad Gawanmeh - Khalifa University
Technical Program Committee
The committee consists of over 50 distinguished individuals. Here is a quick mention of a few of them.
Atif Ali - Information Security Lead at Qantas Money, Sydney at Australia

Haider Abbas - National University of Sciences and Technology at Pakistan

Sa'ed Abed - Kuwait University at Kuwait

Rui Aguiar - University of Aveiro at Portugal

Mustafa Akba - Florida Polytechnic University at USA

Samira Akhbari far - Parand University at UAE

Ahmad Al-Hammouri - Jordan University of Science and Technology at Jordan

Jameela Al-Jaroodi - Robert Morris University at USA
And many more.
Registrations
The registration dates for the ITNG-BT 2020 hasn't been officially confirmed. We will update any new information as soon as it is announced.