IoT Solutions World Congress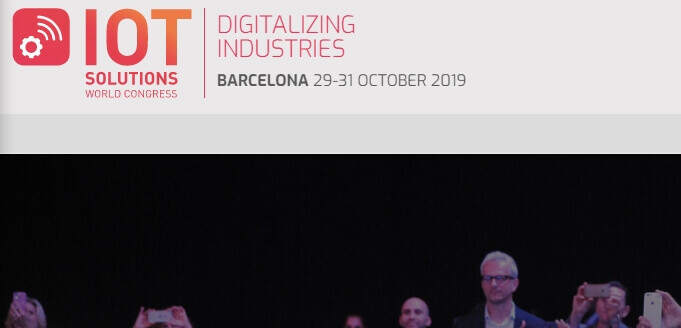 IOT Solutions World Congress is a popular conference that is going to take place in Barcelona 2019 from 29-31 October 2019. It will have 16,250 visitors from 120 countries with more than 300+ sponsors, exhibitors, and partners. To accommodate the huge number of audience, it will take place at the exhibition space of 32,000. Moreover, there will be 400 top-level speakers.
Why visit the IoT Solutions World Congress
There are many reasons to visit the IoT Solutions World Congress. The key reasons include the follows.
Discover the biggest tech companies and get involved with them.
Meet the technology experts that will help you understand the AI technology, Blockchain, and IoT.
Learn how the companies are using the cutting edge technology to their advantage
Learn from the 300 excellent speakers with solutions and case studies
Benefit from activities and side events
Enjoy the city and what it has to offer!
Tickets
The ticket pricing is as below.
Expo Visitor Pass -

€

50(early bird pricing) -- get access to exhibition floor areas and networking event.

IoT Solutions World Congress Full Pass -

€

695 - Access to both exhibition areas and conference access, networking coffee, networking event, and Congress Restaurant Lunch

Expo Visitor Pass+ -

€200 - Get access to the exhibition floor and networking floor and IoT conferences.

Blockchain Solutions World Pass -

€295 - access to blockchain solutions world conferences, exhibition area, networking event, coffee, and lunch.

AI & Cognitive Systems Forum Pass -

€

295 - AI & Cognitive Systems Forum Exhibition areas and conferences, networking event, coffee, and lunch
There are also special passes for the press, analysts, and investors. For those, you need to apply through a form on their site.
Tracks and Themes
There will be a lot of tracks and themes that be covered in the event. They are as follows:
Connected Transport - Connected vehicles, Improved Delivery Time, Autonomous Vehicles, Route Optimization, Smart Logistics, Traffic Re-routing, Speed Optimization, Smart Emergency Services, Traffic Re-routing, Crash Prevention Technologies, and so on.
Manufacturing - Addictive manufacturing, interoperability, privacy & security, Traceability, Industrial data lakes, Integrating legacy to the edge, collaborative robots, digital trust and so on.
Healthcare - Digital care facilities, wearable mHealth devices, clinical command centers, improving chronic disease and population management, wearable mHealth devices, digital patient experience(Voice, AI, etc.), Blockchain, secure contracts, and much more.
Utilities and Energy - Pipeline monitoring, optimized grid distribution, increased response time to power outages, increased response time to power outages
Infrastructure and Buildings - Smart Spaces, Smart meters, smart offices, water systems, remote monitoring, public venues, and others
Open Industry - VR and AR visualization, IoT impact on distributed compute deployment, and so on.
Enabling IOT - Digital Thread and Twins, Analytics and Data, Cloud, Fog and Edge, Compliance, Privacy, and Security
Artificial Intelligence - Social impact of AI, AI security, privacy, trustworthy, Algorithmic training, open source
Blockchain - Logistics, public health, blockchain for charity and good, core building and infrastructure, and so on.
Should you attend IOT Solutions World Congress?
Well, if you are into the technology world and want to explore the best possible way of how it is growing, then check out the IoT Solutions World Congress. It has a lot of things to offer. If you are looking for something specific, then we recommend checking out their official webpage for more information.