The 3rd Annual International Payment Forum 2019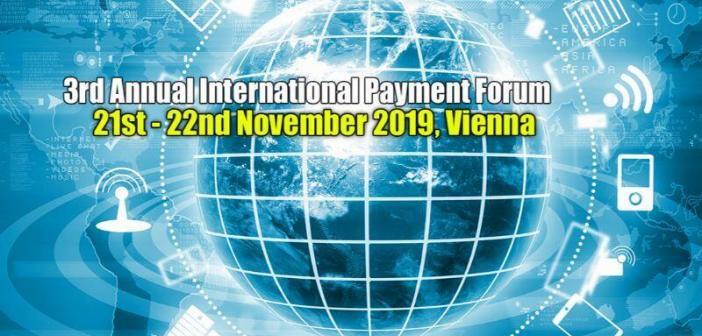 The 3rd Annual International Payment Forum is scheduled as a two-day event spanning from November 21st to November 22nd, 2019 in Vienna. The key focus of the event will be on covering the latest trends, current regulations, and developments that are affecting the banking industry in the period of 2019-2020.
The event will be a congregation of over a hundred senior level payment professionals alongside the top presenters to paint a clear picture of the opportunities as well as risk, lurking just behind the horizon. A dedicated section has also been allocated for an interactive Q+A session to clear any confusions that might pollute the minds of the attendees.
Speakers
Here is a quick look at some of the featured speakers expected to make an appearance at the forum:
Elie Beyrouthy, American Express

Ron Delnevo, Atmia

Gijs Boudewijn, European Banking Federation

Javier Santamaría, European Payments Council

Scott McInnes, Bird & Bird

John Basquill, PaymentsCompliance
And many more.
At the moment of writing, the forum is still open to expecting new speakers who are interested in sharing their insight and knowledge with the rest of the industry.
Agenda
Over the course of two days, the event aims to cover an array of different topics as discussed below:
PSD2 - the Revised Payment Service Directive.

APIs in Open Banking.

Instant Payment.

TIPS - TARGET Instant Payment Settlement.

The use and influence of AI in Blockchain technology.

Digital Banking.

Fintech vs. Banking

The role of Mobile Banking in the future.

EU Interchange Fee Regulation.

AML - Anti-Money Laundering Directives.

The Draft Regulatory Technical Standards.
And many more.
Why Attend?
If you are still confused about whether or not you should consider attending the event or not, then here is a quick overview of some of the benefits of attending the event:
Access to live case studies from experts showcasing real-life business solutions.

An opportunity to learn and be educated directly by specialists and business leaders.

Networking opportunities with dedicated breaks to expand your business relations.

A distinguished ensemble of thought leaders and industry experts taking the stage as the featured speakers for the event.

Open Panel Discussions.
Ticket Prices
Tickets for the event are sold under two categories.
If you are an industry professional, then ticket prices start at $998/delegate along with a 20% early bird discount.
On the other hand, ticket prices for professionals who want to visit as solution providers will be priced higher at $1998/delegate. The same 20% early bird discount also applies to them.