International Cryptographic Module Conference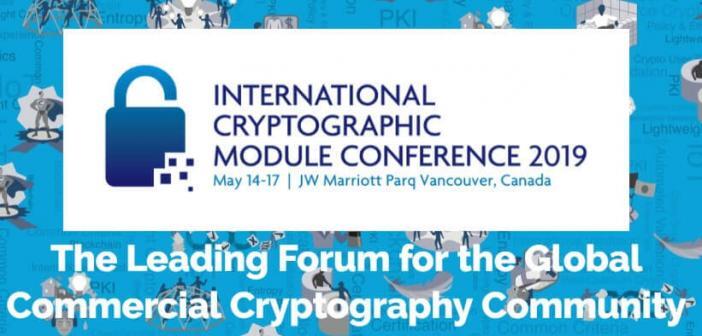 International Cryptographic Module Conference(ICMC19) is one of the most popular conferences out there. It is going to take in Vancouver from 14-17 May. It is a leading forum for discussing Global Commercial Cryptography Community.
If you are interested n cryptography and blockchain, then you should check out the ICM19. The conference will host multiple cryptography leaders. It is also the seventh International Cryptographic Module Conference(ICMC19). They will bring a new perspective and content. They will examine schemes in Japan, China, Singapore, Malaysia, and others. Moreover, they will also cover the west coast startups that are using cryptography in their foundational technology.
More about IMC19
The conference is more than just a meetup. They are trying to change how the technology works, and for that, they are also doing survey contributions from Southeast Asia and Australia; which will then be used to draft open source cryptographic protocol. The open source cryptographic protocol will be used to fuel the internet. Another major topic that will be covered in the conference includes the post-quantum crypto that is happening throughout Asia.
The following are the key statistics about ICMC19
Industry leaders - 500
Countries - 25
Standards followed: ISO/IEC19790, FIPS 140-2, and Common Criteria.
The focus is to foster a community that helps each other and figure out key aspects about the cryptographic implementation including side-channel analysis, key management, algorithm testing, validation programs, professional ethics, government policy and so on!
About the location: Vancouver
Vancouver is a great place to be in. It is full of glassy downtown, urban forests and so on. You will get great sightseeing and learn how the place has become a leader when it comes to tech innovations.
Who should attend the conference?
ICMC is mainly targetted at people who are involved in data security. It can be commercial or non-commercial. The conference will put special focus on cryptographic standards such as the ISO/IEC 19790, FIPS 140-2. This means that government departments, key laboratories that are working on cryptography can attend the conference. Others who can attend the conference including academic community members, standards development stakeholders, side channel research community member, and so on.
ICMC19 Speakers
One of the main attraction of the conference are the speakers. The prominent speakers include the following
Basil Hess, Chief Cryptographic Engineer, InfoSec Global
Tim Hudson, Technical Director and CTO, Cryptsoft Pty Ltd.
John Kelsey, Computer Scientist, NIST
Priyadarshan Kolte, CTO & Co-Founder, Baffle
Sung Ha Lee, NSR
Tanja Lange
Malcolm levy, Certification Manager, Check Point Software Technologies
Smita Mahapatra, Security, and Certifications Analyst, Gemalto
Sarah Mccarthy, Research Assistant
Keith Merlo, Canadian Centre for Cyber Security
Sweta Mishra, Researcher, NIST
and others!
Agenda
As it is a three-day conference, you will witness a tight agenda. Let's take a look at the agenda below.
May 14th
Registration: 8.00-9.00
Pre-Conference Workshops - 9.00 - 12.30: Cryptographic Lifecycle Management, FIPS140-2 Validation Process: Overview and Case Study
Seminar on Hardware Attacks to Cryptographic Processors
Lunch - 12:30 - 13:30
Pre-Conference Workshops - 13.30 - 17.00: Introduction to Blockchain Workshop, Workshop on Automated Cryptographic Validation Protocol(ACVP), and Physical Testing(Beyond FIPS)
May 15th
May 15th will also see an action-packed day. The registrations will start from 8:00-9:00, and track sessions will be covered throughout the day. There are too many track sessions to be listed here. If you are interested, you can check out their official website.
May 16th
The day will start with coffee and then move to plenary keynote sessions. After the networking break in exhibits, the track sessions will flow.
May 17th
The last day will be similar to other days. It will start with coffee and then followed by track sessions.
Should you attend the conference?
If you are into cryptography, then we suggest checking out the event. It has a lot of content for anyone who is working in the field.