The 2nd International Conference on Blockchain Technology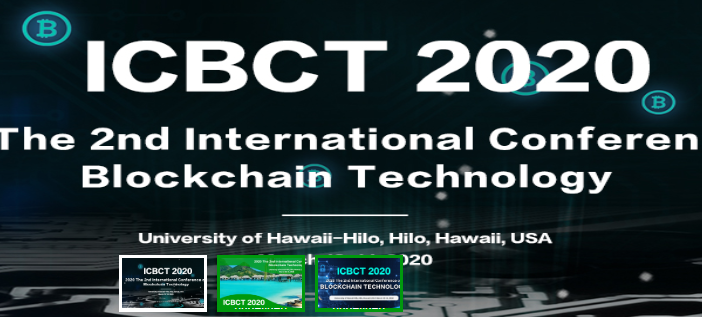 The 2nd International Conference on Blockchain Technology, ICBCT, is a three-day conference that is going to take place at the University of Hawaii-Hilo, Hilo, USA. At the conference, the initiative is to foster the community and also recognize the blockchain and related technologies' importance.
The event will be attended by the government, industry, academia, and experts from different technology sectors. Their presence will provide an innovative look at the current happening and will also refine how the blockchain's potential. They will also generate new ideas and how to make blockchain reach their potential.
At the core, there is the International Economics Development and Research Center(ICBCT), which consists of the scholar students, engineers, researchers, and scientists. The newest findings and research will be shared through the top-level keynotes, panel discussions, solution-based case studies. Multiple industries will be covered, including healthcare, energy, financial services, energy, real estate, and so on.
Important Dates
Dec 15, 2019 → Submission deadline

Jan 05, 2020 → Notification deadline

Jan, 25, 2020 →  Registration deadline

March 12-14, 2020 → Conference date
Call for papers
You can also voice your findings and research at the conference by submitting your papers. They are accepting papers on a plethora of topics related to blockchain. You can include papers on the following topics and their sub-categories.
Blockchain Fundamentals

Blockchain for Banking and Finance

Blockchain for Supply Chain

Blockchain for Automotive

Blockchain for Health Care and Medicine

Blockchain for Transportation and Travel

Blockchain for Retail and Consumer Products

Blockchain for the Internet of Things

Blockchain for Agriculture,

Blockchain for Government
Keynote speakers
At the time of writing, only two keynote speakers were listed on the site. They include the following:
Prof. Raj Jain, Jr. Professor Computer Science and Engineering, Washington University

Prof. Wenbing Zhao, Cleveland State University, USA
Program
The program for the conference will be as below:
12th March 2020 → 10.00 am to 17:00 pm → Conference Materials Collection and Arrival

13th March 2020 → 9.00 am to 19:00 pm → Plenary Speech, Invited Speech Authors Presentation, and Keynote Speech

14th March 2020, Pending → City Visit