International Conference on Blockchain and Data Science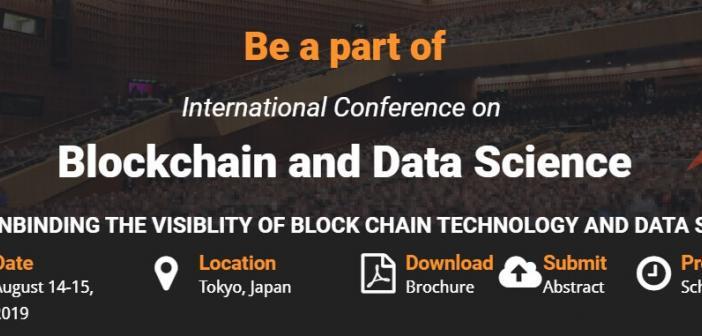 Meetings International is a big organization that hosts conferences on trending topics from time to time. This time, they are hosting their International Conference on Blockchain and Data Science. Their theme will be around the lines of "unbinding the visibility of data science and blockchain technology."
The international conference will take place on August 14-15, 2019. They aim to engage people from a different medium including industry, government, and academia. They will discuss the current and future challenges that are associated with the blockchain technology, digital economy, and innovations. They will also discuss the smart digital economy and its key features such as transparency and security.
The conference is going to take place in Tokyo, Japan and will also organize the workshop, symposium, special session, seminar and so on. They will have experts from different organizations, industries, and experts that will share their fear, vision, and thoughts.
Speakers - Blockchain and Data Science Conference
The key speakers that will be joining the conference include the following.
Mana Qureshi - Cyber & Organizational Resilience, Singapore
Aleksandr Goldobin - Perm Technical University, Estonia
Parameswara Rao Ganta - Global Blockchain Pioneers
Sascha Win - Blockchain Investors Group, Indonesia
Dario Moceri - Luiss Guido Carli University, Italy
Venue information
The conference will take place at 650-35, Tomisato, Chiba 286-0221, Tokyo, Japan. The venue is properly connected with other locations and you can take city bus lines, railway services, and much more!
Scientific Sessions
There will be many scientific sessions that will be covered in the event. They are as follows:
Blockchain Technology and Applications
Challenges and Opportunities for Crypto Currency and Blockchain Industry
Blockchain-based Banking System
Smart Contracts and Cryptocurrency
Artificial Intelligence and Application and Research
and much more!
Who should attend?
The conference is ideal for anyone who is from the industry and academia dealing with blockchain including the following
Researchers & Innovators
Solution Partners
Product Developers
Management Bodies
Decision Makers
Stake Holders
Management Bodies
Societies, Associations and Professional Bodies
and others!
Why attend the conference?
Attending the conference is ideal for both the attendees and anyone who wants to promote their product or services to others. It has the following to offer:
Meet experts
Learn new tricks and tips
New Space learning
Global networking
Certification
Brand establishment
New Customer base