International Conference On Blockchain and Data Science 2020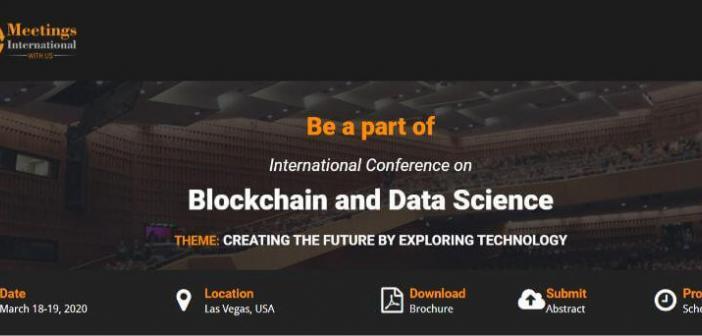 The International Conference on Blockchain and Data Science 2020 is scheduled as a two-day event taking place on March 18-19, 2020 at Las Vegas. The event aims to put focus on data science and how it is going to change and build our future.
All the industry leaders and subject-matter experts in the field of data science, are going to gather and share information as well as their own research findings regarding topics like - supply chain management, blockchain in hospital management, automatic analytic techniques and how to develop them, and much more.
The main focus of the event is to spread awareness and give audiences a clear understanding of where the future is headed and how blockchains and data science are influencing it.
Speakers And The Organizing Committee
Currently (at the time of writing), there is no official announcement of the speaker line up, as registrations are still going on. However, as soon as any update comes up, we will surely include it on the list.
But for now, let's take a look at the Organizing Committee - the people behind the International Conference on Blockchain and Data Science:
Morgan C. Wang - Professor at the University of Central Florida

Siddhartha Bhattacharyya - Principal at RCC Institute of Information Technology

Kamareddine Fairouz D - Professor at Heriot-Watt University

Anand Nayyar - Professor at Duy Tan University

Abdel-Badeh M. Salem - Professor at Ain Shams University
Agenda
The official program schedule is yet to be announced as the speaker registration is still underway. However, we already have an idea of the structure of the event and what you can expect.
On day one, the event is set to begin around 8:00 am and end at 5.30 pm. You will get 8 speakers on the first day with intermittent breaks for breakfast and lunch combined with a networking session. Day two also has a similar set of events with a maximum of 8 alloted speakers.
The event has also organized an award ceremony which will take place on day one.
Who Should Attend?
The international conference on Blockchain and Data Science 2020 offers the perfect platform for Data Scientists and Professionals to connect and make acquaintances with their peers in both academia and the industry. It is the perfect networking opportunity where attendees can connect with:
All the Blockchain and Data Science Stakeholders Holders.

Academic Researchers and Industry Innovators.

Product Developers and Solution Providers.

Sales & Marketing teams.

Associates and professional bodies in big Data Science companies.

Funding Agencies as well as Fund Raisers.

Experts looking for to Collaborate with others.
And so on.
Therefore, if you are a person looking to showcase your work, or make a new connection and potential partnerships with similarly skilled and enthusiastic professionals, then you should definitely mark down the date on your calendar.
Registration Fees
If you are looking to register for the academic section of the event, the sign-up fees range from €330 for video presentations to €700 for speakers, €740 for delegates, and €700 for poster presentations. 
The prices are a bit higher if you want to sign-up for the business segment, with speaker registrations costing you €790, delegates at €830, poster presentations at €880 and €1699 for exhibitors.
However, students do get a fairly discounted price at €510 to participate in the young research forum, €560 to register as a student delegate and €560 for poster presentations.
Attendees are also offered extra paid plans where they can visit as well as get the privilege of a couple of nights' accommodations provided by the event organizers.