IMTC WORLD 2020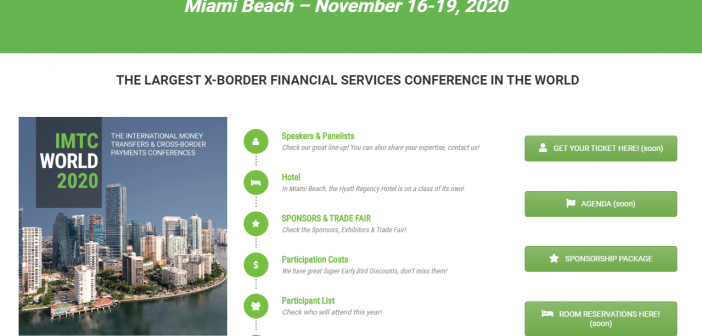 IMTC World 2020 is one of the biggest conferences out there. The four-day conference will take place from 16th to 19th Nov 2020 at Maimi Beach. They have grown tremendously in the past few years and have managed and their 2020 conference is going to be one of the largest in years!
The choice of Miami for the conference hosting enables anyone from Latin America, North America, Europe, the Caribbean, Africa, and Asia to join the conference and be part of an exciting culture in Miami. 
More About IMTC World 2020 And Networking
There are more than 450+ participants every year which enable networking across different sectors including crypto, blockchain, and Fintech. Here, you will get excellent opportunities for connecting with someone that can help you in the industry.
Apart from that, there is a large diversity when it comes to financial cross-border service providers. This makes the newcomers the ability to connect with the business leaders. 
Speakers and Panelists
IMTC World 2020 will also attract some of the best minds to speak and share their experience at the conference.
To get an idea of who will be there, let's check the three most prominent speakers and panelists at the conference.
Nina Hulsken → is the managing director and founder of Cosmo Element and is working closely with people in the payments industry. Her work has been implemented in global payment projects. She has also made her presence felt in Card Schemes including Visa, Mastercard, and Unionpay.

George Harrap → the CEO and founder of Bitspark, a Hong Kong-based bitcoin startup. He is making his presence felt in the remittance service.

Hugo Cuevas-Mohr → is the CEO of Mohr Wolrd Consulting. It is based in Miami Florida and is now almost two decades old. He managed to change the payments industry.
Agenda
The detailed agenda has not been out yet. However, you can get a glimpse of what's at the offer, by going through the following topics and sessions that they are going to cover.
MTCC Compliance Certification Course

Money Transfers and Fintech by Hugo Cuevas-Mohr

Remittances Innovation Forum

Plenary session

Lunch and coffee break

Round tables sessions
Apart from that, you will also be able to participate in their courses and forums. Currently, they are offering the following.
Remittances Innovation Forum → One-day intensive forum focused on Remittances Innovation. It will also focus on its role in the Fintech industry.

MTCC - Money Transfer Compliance Course → In this course, you will learn about the MTCC Compliance and get a certificate. It is a one-day intensive and practical course. 

Money Transfers & Fintech Course → Here, you will get a one-day course on Money Transfers & Fintech Course.
Venue
The venue of the conference will be Hyatt Regency Miami which is aside from Brickell.