IEEE DAPPS 2020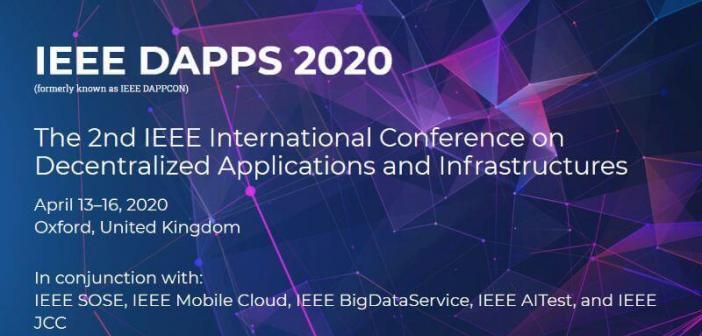 The 2nd edition of the IEEE International Conference on Decentralized Applications and Infrastructures, a.k.a. IEEE DAPPS 2020 is scheduled as a four-day event starting from April 13th to April 16th, 2020. The conference is entirely focused on the research side of Blockchain and Decentralized applications, and thus, rightfully held at Keble College, on the grounds of Oxford, United Kingdom.
The primary goal of the conference is to provide a platform where Blockchain researchers and practitioners can come together and bridge the gap between theory and practical applications of Decentralized Apps and Distributed Ledger Technologies. The event will provide a high-quality forum for individuals coming from the research background and the industry and facilitate a productive debate on Blockchain and related technologies.
Topics Of Interest
The event is welcoming a diverse pool of papers covering various aspects of Blockchain, DLTs, and dApps. Here is a look at the various topics on which papers have been submitted:
The Theory of Blockchain

DLTs or Distributed Ledger Technology

Smart Contract and How it Works

dApps - Infrastructure and Consensus Protocols

Decentralized identity

Tokenization and Token Economy
And many more subjects revolving around these topics.
You can also expect discourses on Blockchain analytics, governance, interoperability, privacy, security, scalability, emerging laws & policies, as well as its application in the fields of IoT, Logistics, Health, and so on.
Committee Members
The full list of delegates and the participants of the program committee are yet to be announced. However, we do know a couple of important names who are going to hold the stage at the conference:
General Chair
Axel Küpper - Technische Universität Berlin

Jie Xu - University of Leeds
Program Committee Chair
Peter Ruppel - CODE University of Applied Sciences

Stefan Schulte - Technische Universität Wien

Divyesh Jadav - IBM Research - Almaden
Local Organization Chair
Hong Zhu - Oxford Brookes University
Publication Chair
Bedour Alshaigy - Oxford Brookes University
Program
IEEE DAPPS 2020 is organized as a part of a larger IEEE event which is going to feature 5 other conferences that are going to follow a common daily schedule and share a couple of events including the keynote talks and panel discussions.
All six events will start together and take place throughout the four days from April 13th to April 16. The different events are:
The International Symposium on Service-Oriented System Engineering a.k.a. IEEE SOSE

The International Conference on Mobile Cloud Computing, Services, and Engineering a.k.a. IEEE Mobile Cloud

The International Conference on Big Data Computing Service and Applications a.k.a. IEEE BigDataService

The International Conference on Artificial Intelligence Testing a.k.a. IEEE AITest

The International Conference on JointCloud Computing a.k.a. IEEE JCC
Registrations
Registration for the IEEE DAPPS 2020 hasn't started yet and is scheduled to be early 2020, most likely from the month of January.