IEEE DAPPCON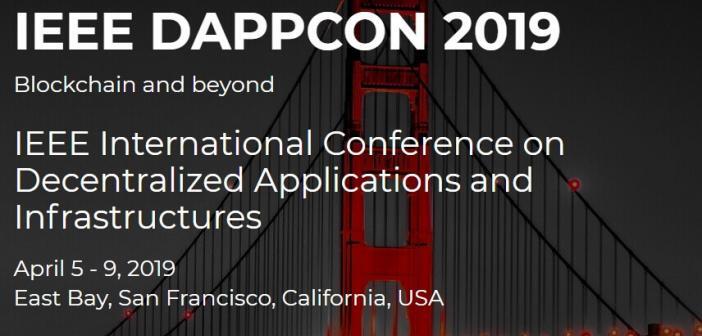 If you are staying near the San Francisco, California, then you should check out the IEEE Dappcon, a four-day conference that is about blockchain and beyond.
So, what is the IEEE Dappcon? It is an international conference on decentralized applications and infrastructure. The conference is managed in conjunction with the IEEE mobile cloud, IEEE SOSE, IEEE BigDataService, and IEE AITest.
Venue
The venue of the IEEE DAPPCON 2019 will be DoubleTree by Hilton Hotel Neward -Fremont.
Registration
The registration process of IEEE DAPPCON is not simple. If you are doing a paper registration, you need to follow a series of steps to get verified. It also has a fee associated with it which range from $700 to $875 for IEE Member and Non-IEEE Member.
There are also other charges related to the number of pages that are part of the paper.
The attendant registration range from $400 to $700 for IEEE student whereas 500 to $1,050 for the non-IEEE member.
Call for Papers
IEEE is known for its innovation and hence have a dedicated section for papers. Their objective is to provide information exchange between researchers and business players. This only leads to more innovation and faster adoption. Only papers related to distributed ledger technology, the blockchain, and other related technology are welcome.
The main topics of interest include the following.
Blockchain theory
Distributed ledger Technologies(DLT)
Token economy
Consensus protocols for decentralized applications
Identity management for decentralized applications
and much more!
Program
The program for the main IEEE DAPPCON 2019 consist of 4 other major IEEE conference. They are as follows.
13th IEEE International Symposium Service-Oriented Systems Engineering(IEEE SOSE)
The 7th IEEE International Conference BigDataService(IEEE BigDataService)
The 5th IEEE International Conference Mobile Cloud Computing(IEEE Mobile Cloud)
The first IEEE International Conference Artificial Intelligence Testing(IEEE AITest)
Other key events include the following:
April 5, 2019: Full-Stack Blockchain Development Tutorial
April 6, 2019: IEEE 2019 Industry Summit Smart Cities
All five conferences will have two common things: Panel discussions and keynote talks.
The schedule is as follows
Blokchcain Development Workshop day and tutorial: April 5th
Industry summit day: April 6th
Conference day 1 - April 7th
Conference day 2 - April 8th
Conference day 3 - April 9th.
Keynote Speakers
From Blocks to Structures: Blockchain in the Enterprise by Divyesh Jadav, IBM Research
Blockchain - From Conception to Product by Mike DiPetrillo, VMware
Should you attend IEEE DAPPCON?
If you are looking for groundbreaking content related to blockchain or DLT, then this is one of the best conferences out there. It has high-level stuff and you are encouraged to write notes whenever possible!