IEEE International Conference on Blockchain and Cryptocurrency (ICBC) 2020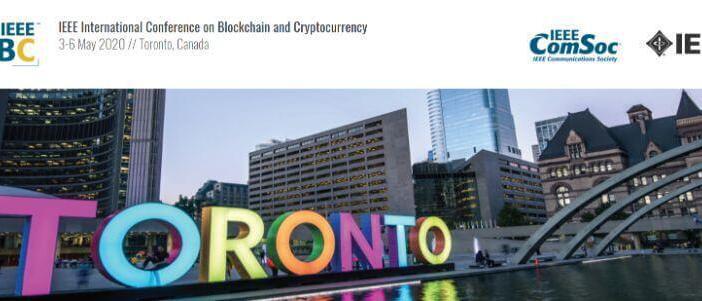 The IEEE International Conference on Blockchain and Cryptocurrency (ICBC) 2020 is scheduled as a four-day event taking place from May 3rd to May 6th, 2020 at the cosmopolitan metropolis and blockchain international hub of Toronto, Canada. 
It is the second edition of the successful IEEE Communications Society-sponsored conference that took place last year covering topics of blockchain and cryptocurrency.
The event is organized primarily as a forum to facilitate a productive exchange between researchers and practitioners, covering the latest research and innovation, regulation policies, standards, and new industries adopting the distributed ledger technologies.
Throughout the four-days, the conference will be segmented into events for keynotes, tutorials, presenting peer-reviewed technical papers, exhibitions, and practical demonstrations.
Topics of Interest
IEEE ICBC 2020 is focused on covering a broad spectrum of topics related to Blockchain and Cryptocurrency, and is looking for submissions of technical papers and tutorial proposals on the following topics:
Distributed Consensus and Fault Tolerance Algorithms

Scalability and Performance Issues

Distributed Database Technologies

dApps and Services

Decentralized app development

Smart contracts

Application of Blockchain in Security, Privacy, Attacks, and Forensics

Monitoring and Analysing Transactions

Tokenization

Regulations and Policies surrounding Cryptocurrency adoption

ICO, Coin Exchanges, and Digital Wallets

Risk Management

Distributed Trust
And the likes. 
It goes without saying that the topics are not limited to these categories and can branch out as long as it is contributing something important to the world of Blockchain and Distributed Ledger Technologies.
Committee Members
With submission for papers still going on, we don't have a complete list of all the delegates who are going to appear at the event. However, we do have some renowned names that are going to own the committee chairs. 
Organizing Committee General Chair
Kostas Plataniotis - University of Toronto
TPC Chair
Andreas Veneris - University of Toronto

Salil Kanhere - University of New South Wales

Grigore Rosu - University of Illinois

William Knottenbelt - Imperial College
STEERING COMMITTEE CHAIR
James Won-Ki Hong - POSTECH
STEERING COMMITTEE MEMBER
Raouf Boutaba - University of Waterloo

Burkhard Stiller - University of Zurich
Program
We still don't have an official schedule or agenda showcasing the timetables of the different events taking place during the conference. An official announcement should soon be out following the last date of paper submissions.
Registration
Registration for the event hasn't started as of yet. Similar to the program schedule, we are expecting an announcement closely following the submission deadline.