Geneva Blockchain Congress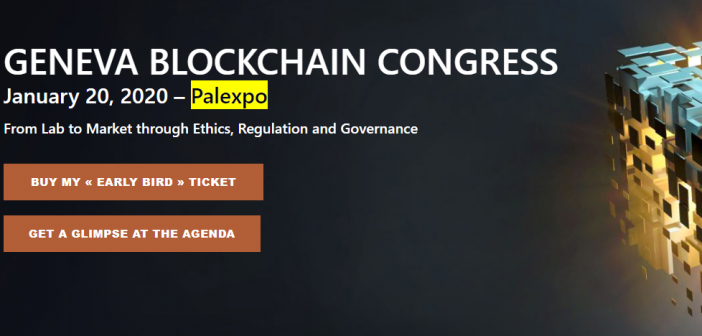 Geneva Blockchain Congress is taking place in Palexpo on January 20, 2020. It is all about Blockchain, and it will cover essential topics, including Regulation, Governance, and Ethics.
The 2019 year edition was a grand success, and that made the Geneva Blockchain Congress 2020 a possibility. At the 2020 event, a wide variety of topics will be covered. There will also be debates at the event. Anyone who is interested in Blockchain can attend the event. The event will take place in Geneva. The city is a great place to hold the event as it is dedicated to improving the United Nations Sustainable Development Goals(SDGs). The city is known for its economic growth, robust institutions, responsible consumption, and great working conditions.
Geneva Blockchain Congress Agenda
The agenda of the Geneva Blockchain Congress Agenda are as follows:
Opening by Pierre Maduet

Keynote speech on open-sourced governance by Plenary

Roundtable by Plenary on Blockchain application governance draft

Roundtable on Switzerland Regulatory Framework

DLT Ethical standard healthcare roundtable

Blockchain platform Deeptech IOT Keynote speech

Don Tapscott Keynote speech

Bridging Physical to Digital

Stablecoins and CBDC's

Blockchain Use Cases Public Sector

Healthcare & Blockchain: Real-world examples

Blockchain Application use-cases

Supply Chains Workshops

Public Sector Blockchain Use Cases 

E-voting and e-identity workshops

Future vision: Web 3.0 and healthcare

Capital Market 2.0 and Tokenized assets
And much more!
Networking
At the event, you will get a proper chance to do networking. You can keep in touch with the stakeholders. There will also be VIP MEET.
Statistics
100+ speakers

1000 attendees from 30 countries

40 international media organizations

50 exhibitors and startups
There is not much information for the event as of now. So, we request you to follow the 101Blockchains.com events section to keep yourself updated with the updated events in the future.