Fearless In Fintech 2019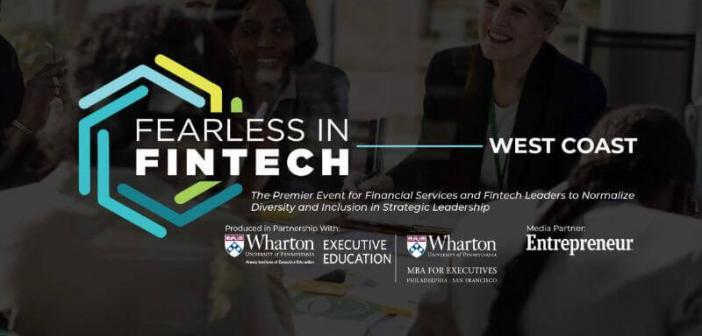 Fearless In Fintech is the premier Event for Financial Services and Fintech Leaders in the West Coast. This year, it is being scheduled on July 15th, at Wharton, San Francisco. The event puts a focus on embracing diverse perspectives to promote innovation and value-creating leaderships.
As such, the conference will bring together a huge roster of speakers covering the full spectrum of the financial industry to lay down the importance of inclusion and creativity when it comes to leading fintech companies amidst the technological disruption that is currently happening.
Over the event, attendees will get a chance to visualize the big picture which will also be translated into small actionable steps and practical tactics which you can employ in your businesses to ride the new direction where fintech is headed.
Speakers
Many of the speakers attending Fearless In Fintech has not appeared at other events so you don't have to hear the same generic message delivered elsewhere.
As stated, the event aims to bring together some of the most creative minds in the industry, and as such, these names might not be covered by the popular media.
With that being said, here is a quick look at some of the featured speakers attending the event:
CO-CHAIR: Jane Barratt, MX, Chief Advocacy Officer

Margaret Shanley, Cohnreznick, Principal, Transactional Advisory Services Practice Leader – Los Angeles, CA

Adrienne A. Harris, CFSI, Former Special Assistant For Economic Policy To President Obama & Board Of Directors

Kartik Hosanagar, The Wharton School, John C. Hower Professor Of Operations, Information, And Decisions

Raissa Williams, Wells Fargo Ceo Mobile®, Head Of Mobile Product Management

Sheila Warren, World Economic Forum, Head, Blockchain & Distributed Ledger Technologies

Amanda Luttrell, Lendingclub, Director, Corporate Strategy
And many more.
Agenda
The event starts out on the morning of July 15th, at around 8 am with registration and morning breakfast.
As the day progressing, different speakers will take the stage to talk about the fintech industry and the importance of inclusion and creativity as the leadership thought pattern. You will also get access to fireside chats and case studies to help you clear doubts and access real-world implications of what is being taught.
Of course, you will also be treated to lunch breaks and coffee time which doubles as a networking session.
Why You Should Attend?
Case studies and discussions to help you understand the value of representation, inclusion, and innovation in leadership.

An inside look at the case studies with exclusive keynotes on what is being discussed.

Access to actionable practical strategies that are board room ready.

Opportunity to build and foster relationships with senior executives as well as fellow industry enthusiasts, all on the same platform.
Ticket Prices
Ticket prices are the same for all attendees at $795. However, people who book tickets before May 24th gets ticket prices lowered to $595 as an early bird discount. On-site tickets are also sold for $895.