Exploring Further Blockchain Use Cases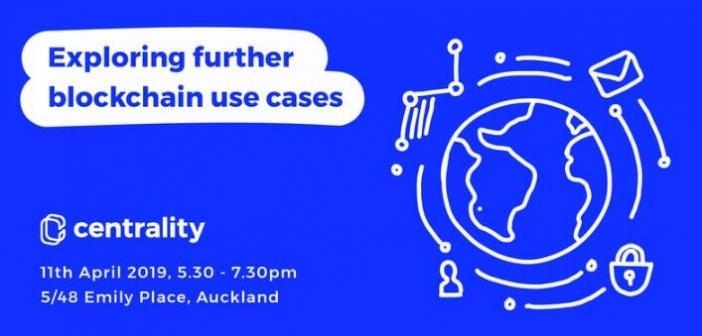 Exploring Further Blockchain use cases by Centrality is an event that focuses entirely on blockchain use cases. We already know how blockchain technology is changing our society way faster than we can imagine. Its impact can be seen across all sectors, and that's where the "Exploring Further Blockchain Use Cases" comes in.
It is going to take place on 11th Apr. 2019, 5.30 PM - 7:30 NZST. As you can see, it will be an only a two-hour event and hence offer condensed information. Also, there is no fee whatsoever with the event. Anyone willing to learn about Blockchain Use Cases can go to the event and enjoy what they have to offer.
The Use Cases - Blockchain event Auckland
The two uses cases that they will be discussing is the Trackback and Lomob story. In the Trackback story, you will learn how they implemented the end-to-end traceability solution. It will provide food traceability,  garment traceability and so on. The key here is to give producers and businesses to track their items with clear transparency. Lomob, on the other hand, is a platform for bus, operators, and rail companies. Lomob addresses the decentralized mobility marketplace, and ensure that you get proper transparency when it comes to transport.
Speakers
There will be three speakers for the event. They are as follows.
Dr. Joshua Bodyfelt: Ph.D. from Wesleyan University. He is currently working on network consensus protocols.

Semanie Cato: Semanie is passionate about business development technology that builds a quality partnership. She is working the Supply Chain, FMCG and Logistics for the last 20 years and is currently working at TrackBack, Head of Business Development.

Phil Williams: Phil Williams is associated with Centrality and works as a technology strategist.
Agenda
The agenda of the event is small. Let's list it below.
5.30 pm - Food and drinks

6:00 pm - Emerging technology use cases and then Q&A

7:00 pm - Mix & Mingle.
Tickets
There are no tickets at the entry to the event is free.
Should you attend the event?
The event agenda is particular and is also not that long. This makes it a great place to visit. Also, did we mention that there is no entry fee?