European Blockchain Convention – VIRTUAL EDITION 2020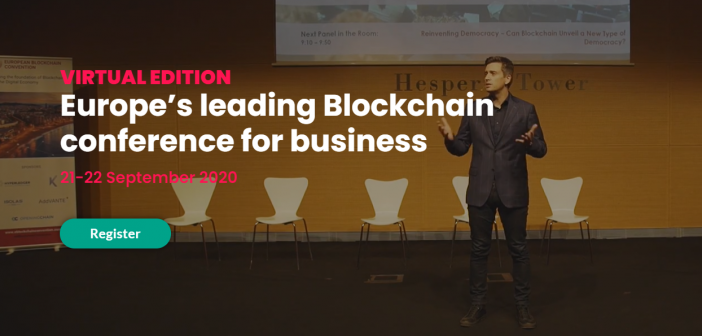 European Blockchain Convention Virtual Edition is a two-day event that is going to take place from 21-22nd September 2020. It is a leading Business Blockchain Conference in Europe where the attendees get the chance to meet investors, tech leaders, developers, corporations, regulators, and entrepreneurs. All of these entities are from the blockchain industry and have the expertise to share some thoughtful knowledge through the virtual platform
The goal of the European Blockchain Convention Virtual Edition is to bring in the best minds in blockchain technology and provide world-class content via collaboration. They also want to provide an amazing networking platform so that the participants get the chance to create business relationships and create successful businesses in the future.
Statistics
Virtual Attendees: 1500

Speakers: 100

Panels: 25

Networking platform: 1
Agenda
The agenda of the European Blockchain Convention are as follows:
Opening remarks

Transforming digital identity into self sovereign identity by Lone Fonss Schroder, Manuela Sedvartaite, Daniel Du Seuil, Pelle Braenddgaard and Ivan Basart.

Education certificates and diplomas with self-sovereign identity by Alea Fairchild, Xavi Vila, Lluis Alfons Arino, and Hennie Bulstra

Central Bank Digital Currencies Current State by Jekaterina Govina, thomas Moser, and Martin Diehl

Europe's Future of Payments by Eva Kaili, Adam Gagen, Miguel Montenegro, and Jorg Kukies

Financial Services Blockchain Solutions by Dean Demellweek, Nadia Filali, Mai Santamaria, Scott King, and Sebastian Kraft

Cross-Border Payments: Role of Blockchain by Dante Disparte, Juilo Faura, Robert Wiecko, Jon Helgi Egilsson, and Bo Hembaek Svensson

IP Industry -- Will Blockchain save it or kill it? By D'vorah Graeser

Food Industry: Track and Trace by Alberto Cozer, Henrik Hvid, Emmanuel Delerm and Rodolfo Quijano

Role of Blockchain Consortia, by ROberto Garcia, Monste Guardia, and Alejandro Pardo
And much more!
For a full agenda list, check out their official website.
Speakers
The speakers for the virtual conference will be as follows:
Eva Kaili, European Parliament

Nadia Hewett, World Economic Forum

Clarisse Dias de Mota, Novartis

Peteris Zilgalvis, European Commission

Adam Gagen, American Express

D'vorah Graeser, KISSPatent

Lone Fonss, Concordium

Daniel Marco, Government of Catalonia

Martin Diehl, Deutsche Bundesbank

Harry Behrens, Daimler Mobility Blockchain Factory
And many more!
Tickets and Registrations
There are two passes for the event.
Inspire Pass: You get two-day access, exhibition hall access, live stages and content access, Q&A engagement, 1:1 networking via Brella, and access to mobile app

Early bird: 119€

Regular bird: 149€

Late bird: 249€

Infinity Pass: You get two-day access and everything that Inspire pass has to offer. In addition, you also get access to premium sessions and workshops, access to recording, two-week early access to Brella

Early bird: 179€

Regular bird: 229€

Late bird: 399€