European Blockchain Convention Barcelona Edition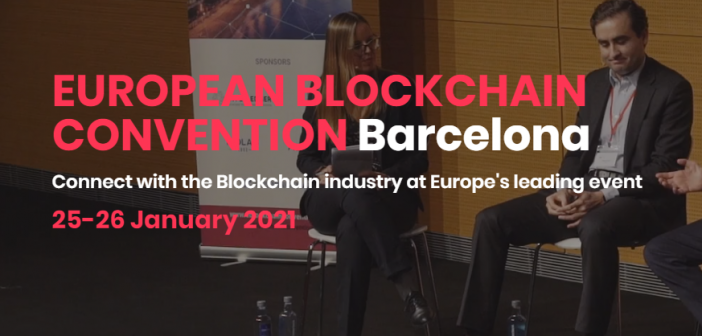 European Blockchain Convention is a one-day event that is going to take place in Barcelona. It is the leading conference in Europe where more than 600+ regulators, investors, tech leaders, developers, corporations, and entrepreneurs join from the blockchain industry.
Their aim is to provide world-class content from the best minds and also give everyone networking opportunities to seek partners or business relationships.
They will discuss about DLT and real-life blockchain applications from different sectors including government, healthcare, supply chain, mobility, and retail.
Statistics
Attendees - 600

Panels - 10

Speakers - 40

Hours of Networking - 40
Agenda
Right now, the agenda has not been completely set. However, they do have a preliminary agenda which is as follows.
Registration

Welcome and Opening Remarks by Victoria Gago and Daniel Salmeron

Digital Society and Identity: Blockchain for Public Sector by Pelle Braendgaard

Financial Markets Infrastructure & Services within the DLT era by Scott King

Central Bank Digital Currencies & innovation in Payments by Thomas Moser

Coffee Networking break

Regulation in the evolving payments landscape in Europe

Blockchain in Logistics & Supply Chain by Sunny Lu

Trends in the Global Legal Landscape of Distributed Ledger Technology by Joshua Klayman

EBC Networking Lunch

Security Tokens - Enabling new Business Models by Robert Wiecko and Thomas Borrel

Keynote Presentation by Sunny Lu

Optimization of business processes with Blockchain in Infrastructure and Energy sector

Short Networking Break

Blockchain Technology for Healthcare Data by Anca Petre

Blockchain Technology Technical Aspects State by Pavel Kravchenko

Misunderstanding of when to use Blockchain by Henrik Hvid

Networking Cocktail
Tickets
Currently, they are only offering virtual tickets for their convention that is going to take place on 21-22 September 2020. They have fixed 1500 tickets.
The price is not yet disclosed, but they will have three types of passes.
Delegate EBC

Delegate EBC + RACE by EBC

Executive PASS
All the tickets will give access to the full virtual conference. You will also get proper networking opportunities where you get the chance to meet investors, industry leaders, developers, advisors, startups and regulators.
Speakers
They are adding new speakers to the European Blockchain Convention Barcelona every week. The ones that are already confirmed include the following.
Peter Kerstens, European Commission

Michael Kumhof, Bank of England

Maria Concepcion de Monteverde, Banco Santander

Joshua Klayman, Linklaters

Sunny Lu, VeChain

Scott King, ING

Carlos Carriedo, American Express

Sue McLean, Backer McKenzie

Roberto Fernandez Hergueta, everis(NTT Data company)

Dirk Bullmann, European Central Bank

Victoria Gago, European Blockchain Convention

Laia Ruiz, RSM Spain

Mai Santamaria, Department of Finance, Ireland

Gonzalo Perez del Arco, Amercian Express Europe

Ivan Basart, Validated ID
And many more!
Venue
The venue for the European Blockchain Convention is the World Trade Center Barcelona - Auditorium. It is designed by Henry N. Cobb, the U.S. architect. You will get access to four buildings with light-filled spaces, open-plan, and luxurious hotels.