Ethereal Summit 2019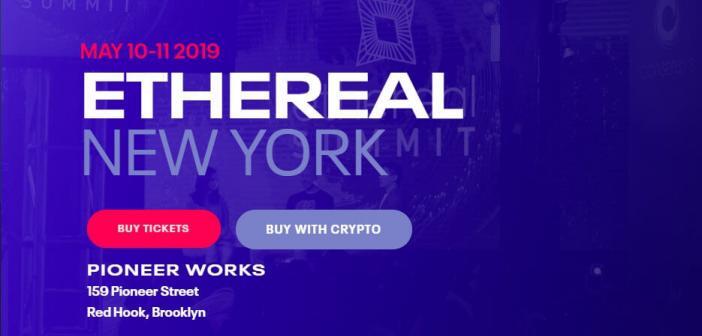 Ethereal Summit 2019 is going to take place in New York City on 10-11th May. The standard set by the Ethereal Summit is excellent when gauged from their experience. Their main focus is to drive blockchain tech but also keeping the human side of the cultural revolution intact.
The key components of the Ethereal Summit 2019 - Blockchain Event New York
Just like any other major summit, it also comprises of key players. They are as follows.
Companies: Anyone from startups to enterprises will take part in the Ethereum Summit. They will enable to build relations and create an authentic connection using their unique knowledge and presence.
Artists: Artists will also be a core part of the summit as both music and art are deeply connected to the creative community of Ethereal community.
Speakers: The speakers craft the backbone of the event as they will educate, entertain and bring conversations to the table.
Speakers
Many amazing speakers will be speaking at the event. Some of the popular ones include the following:
Aya Miyaguchi, Executive director, Ethereum foundation
Jay Chugh, Senior Director, Products, Oracle
Amber Baldet, Co-Founder CLOVYR
Laura Shin, Unchained Podcast
Devin Finzer, CEO and Co-Founder, OpenSea
Tushar Jain, Managing Partner, and Co-Founder, Multicoin Capital
and many more!
Ethereal Merch
To make the summit more personalized, they also offer Ethereal Merch which includes headgear, limited edition pieces, shirts, and hoodies.
Event Themes
The event runs through some key event themes. They are as follows.
System: Systems let us enhance our lives and how we live. Here, you will be able to explore and learn how blockchain technology is changing our world including personal life and industries
Ethics: Ethics plays a crucial role in bringing cross-sector partnerships and improve long-term social impact.
Essentials: Essentials cover the basics of blockchain technology and help novices learn what blockchain has to offer.
Futurism: Futurism is how the current technology can impact our future and bring us technology that can completely revolutionize democratization and space exploration.
 Arts: Arts is what brings joy to our lives. This is also true when it comes to technology, and that's why it is one of the major themes that the event has to offer.
Ethereal Manifesto
Not all summits have their manifesto, but Ethereal does. Their manifesto gives us a glimpse of what they want to achieve. Their main aim is to become the nexus between the people who are bringing the change and technology. They also believe heavily on the idea of decentralization and strongly think that decentralization is always a better way to organize things, in a decentralized manner. According to them, the world can take full advantage of blockchain technology, and work through a more open, fluid and network innovation.
Their mission is to create systems that help the whole humanity to improve with a shared purpose. They also see technology as a tool that will bring change. It can either be evil or good, but it will surely act as a catalyst to bring the changes.
In short, they bring in openness, communication, transparency, responsibility, inclusion, social impact, and diversity.
Registration
You can buy tickets through normal mode of payment, but also crypto.
The ticket price range from $525 to $920.
General Admission Tier 1: $525 (Sold Out)
General Admission Tier 2: $710
1 Ethereal GA Ticket + ConsenSys Academy Developer Program(30% off) - $920
Should you attend Ethereal Summit New York City 2019?
If you are looking to experience the whole spectrum of technological growth along with its social and economic impact, we would recommend Ethereal Summit. It has something to offer to everyone that visits. Also, they have great speakers from diverse background and working experience.