WOMEN IN ENTERPRISE BLOCKCHAINS VIRTUAL CONFERENCE
Featured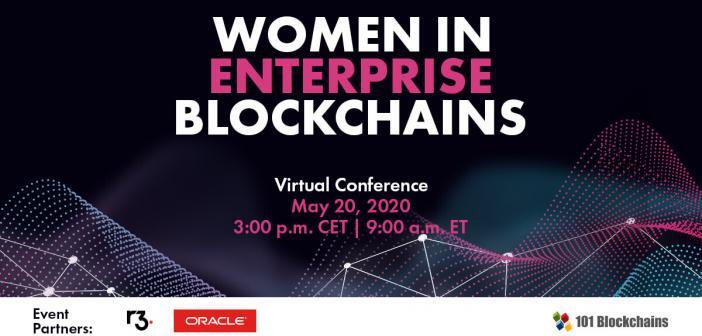 Virtual conferences are the future. With COVID-19 affecting the world around us, we have the technology backing us.
That's why 101Blokchains.com becomes Women In Enterprise Blockchain -- a virtual conference that is going to take place on May 20, 2020.
It will have 700+ attendees, 12+ speakers, and 4+ topics!
There is no doubt that blockchain technologies have made a significant impact on the different sectors in the industry. We can see how many C-level executives, entrepreneurs, platform developers, consultants, and others are taking part in the digital revolution which starts with learning or adopting blockchain technology.
Decision-makers need to be at the top of the changing revolution. They need to ensure that they follow good practice and use them to avoid mistakes. They also need to learn from the very best and learn from their blockchain-based initiatives. At the end of the day, entrepreneurship is all about making the most out of the risks at stake and using those competitive opportunities to emerge in the market. This is applicable across multiple domains, including blockchain-based scenarios.
As for developers, they want to learn the needs of enterprise users and use that knowledge to learn how they can interact with innovative digital protocols. By doing so, they can create and manage interoperable digital business environments using technical standards.
To bring all of these to you at your home, we are bringing the Women in Enterprise Blockchain virtual conference. They want to bring the best enterprise blockchain practitioners to the event and give them the platform to share their experience with others.
We at 101Blockchains.com also want to fight diversity and contribute to women's advancement through the Women in Enterprise Blockchain!
Event Program
The event program for the Women in Enterprise Blockchain Virtual Conference will be as follows:
Opening Speech → 15:00/09:00 am

Keynote → 15:05/09:05 am

Alisa DiCaprio, Head of Trade and Supply Chain, R3

Identity panel discussion at 15:25/09:25 am by 

Genevieve Leveille, CEO, Agriledger

Laura De Giovanni, CEO, Tiiqu

Amber Ghaddar, CEO, Alliance block

Keynote → 16:05/10:05am

Mary Hall, Director of Blockchain Product Marketing, Oracle

Trade panel discussion at 16:25/10:25 am by

Sheila Donohue, CEO, VeroVino

Emmanuelle Ganne, Senior Analyst, Economic Research, WTO

Leanne Kemp, CEO, Everledger

Keynote → 17:05/11:05am: Beyond Technology: Blockchain Network Design

Krystal Webber, Global Design & Strategy Leader, IBM Blockchain Services

Sustainability panel discussion at 17:25/11:25 am by

Montse Guardia Guell, GM, Alastria Blockchain Ecosystem

Bridget Greenwood, Founder, The Bigger Pie, Founder

Virginia Cram Martos, CEO, Triangularity
Featured Speakers
The notable featured speakers at the Women in Enterprise Blockchain Virtual Conference are as below:
Alisa DiCaprio, Head of Trade and Supply Chain, R3
Leanne Kemp, Everledger, Founder and CEO
Krystal Webber, Global Design & Strategy Leader, IBM Blockchain Services
Emmanuelle Ganne, Senior Analyst, Economic Research Department, WTO
Genevieve Leveille, Agriledger, CEO
Laura De Giovanni, Tiiqu, Founder and CEO
Virginia Cram Marto, CEO, Triangularity SàRL
Dr. Amber Ghaddar, Founder, AllianceBlock
Montse Guardia Guell, General Manager, Alastria Blockchain Ecosystem
Mary Hall, Director of Blockchain Product Marketing, Oracle
Bridget Greenwood, Founder, The Bigger Pie
Sheila Donohue, CEO, Vero
Topics Covered
At the conference, there will be three key topics that will be discussed.
Identity
Identity is one of the important topics in our industry. As you should know, carefully identifying the roles, identities, and responsibilities are important to any project out there. All of this needs to be done in a way so that it doesn't threaten privacy. Another aspect to look at it is to ensure proper participants' awareness. They should feel involved and more accountable to the rules set by the system so that the system can work as intended. To ensure that the aspects are well-governed and executed, we have blockchain technology that ensures that no rules are broken and also keep privacy at the forefront.
The speakers in the topic will share their own respective perspectives and how their organizations utilize the blockchain to ensure personal privacy without affecting the need for identifying parties and their business transactions involved in a project. To do so, they will share their ideas and solutions using transparent models where the network participant's identities are under control.
Trade
In any organization, trade is at the core of process and workflow. After entities after proper identities now need to make trade, including exchange goods, documentation, information, financial instruments, and so on via the blockchain-based platforms. To make sure that everyone is on the same page, especially in international trade, the platform needs to be transparent, and also need to follow globally accepted rules. These rules need to be based on blockchain protocols.
The speakers will speak about how the current businesses are running the trade and do things to ensure smooth transactions across the system. They will also discuss the transition from traditional centralized systems to a blockchain-based platform. As usual, the transition takes time and effort to achieve perfection. Also, it is not necessary to go for blockchain-based applications for every use-case out there. The speakers will discuss those scenarios out there. Lastly, they will discuss the practical details related to use-cases.
Sustainability
The last topic that will be discussed by speakers is sustainability. Sustainability is one of the biggest obstacles that businesses have to tackle. It affects all types of business, small or large, as they try to take advantage of innovative technologies and try to use it sustainably. 
By sustainability, it means managing different aspects of it in a company's presence. It can be social sustainability or managing legal labor forms or ensuring workers are always treated equally. Other important aspects that need to be maintained include gender equality and financial sustainability.
In this section, the speakers will explore the benefits of blockchain technology to developing countries. They will also discuss sustainable trade practices and share their experience with dedicated platforms and non-profit associations.
Join now!
So, what are you waiting for? Register now and become part of the online conference where there is no need to travel, and you can enjoy the conference from the comfort of your room!