ENTERPRISE BLOCKCHAINS STRATEGY & MANAGEMENT VIRTUAL CONFERENCE
Featured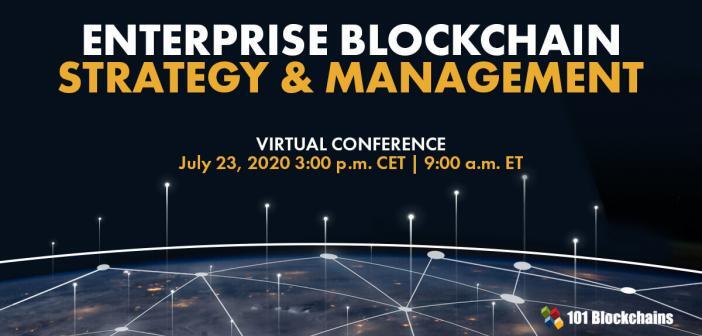 We invite you to another yet exciting virtual digital event, the Enterprise Blockchains Strategy and Management Virtual Conference.
This blockchain management event will feature 8+ speakers, 1000+ attendees, and 3+ topics.
Blockchain is at the core of innovation. It is an innovative technology that lets companies do more without the need to completely change their work process. The fact that the enterprise business process can be run in a trusted and collaborative way is a big thing! Blockchain technology can help us face the critical economic situation. To let all these happen, the industry leaders and business decision-makers need to understand the blockchain technology foundation.
So, why are we talking all about this? It's because we present to you the Enterprise Blockchains Strategy and Management Virtual Conference -- a blockchain strategy conference where you will understand the basic foundational elements that are taken into account by enterprise decision-makers. These elements help them to identify the best possible use-cases for their business ecosystem.
By attending the conference, you will be able to witness the best work of the conference panelists and speakers as they share their experience on how the sophisticated blockchain-based platform and applications work.
Event Program
The features speakers are not yet decided. It will be updated soon, so check out space again in a few days!
Features Speakers
The features speakers are not yet decided. It will be updated soon, so check out space again in a few days!
Topics Covered
There will be 3 sessions in the virtual conference.
Session 1 - Deciding For Blockchain
Blockchain initially aimed to solve the perils of the financial industry, but as of now, it is more seen in action through cryptocurrency. The increased use in cryptocurrency saw the fall of multiple cryptos as they try to not solve a unique problem. As of blockchain technology, it managed to influence other industry sectors with its advantage and usefulness.
The most obvious reason for failed blockchain projects is how the project is handled from the onset. The startups failed to have a clear vision of technical gaps, limitations, and obstacles. They also do not understand the dynamics of market demand, creating blockchain products that are out of sync from the market demand. In this case, the use of blockchain yield no benefits and can result in wasted time and effort from the developer's part.
In this section, the speakers will share their experience using real-life learning and experimentation. They will show you how to plan and execute the project by using blockchain technology in the right way.
Session 2 - Building The Business Case
Blockchain is a fairly new technology and still requires time to get itself established. That means that you will have a harder time convincing the management and the boss for budget management and implementation.
On top of that, you also need to handle the internal competitors who have a fairly easy time when it comes to budget allowances. For example, the sales team can show how to budget allocation can result in increased revenue. The marketing team is also at ease when it comes to implementation as they can share how improving or allocating budget can mean a better market share. But what about blockchain? How does it change the business and bring benefits to it?
As someone working on a blockchain project, you not only need to understand key evaluation drivers but also need to gain better knowledge about the tangible and intangible benefits of using blockcahin technology in the business process. You also need to showcase how it will impact the long-lasting trade relationships. Showing all of these is a big challenge, which is a lot more complex than showing benefits with numbers.
To help you better handle business cases using blockchain technology, the speakers will showcase how the different businesses across the world showcase and measure blockchain impact on their business. They will also cover intangible benefits, including collaboration, accountability, reliability, and trust. These four drivers can bring tangible benefits to the business.
Session 3 - Communication and Marketing
The last step is to communicate the benefits to your business partners, including the supply chain. The challenge is to effectively communicate and market your blockchain project while working behind the door for a long period. These communications need to be timely and effective; otherwise, it would become hard to convince the stakeholders.
The communication aspect needs to be managed, both internally and externally. The external handling will ensure easy communication among players that gets boarded. 
In this session, the industry experts will share their experience when it comes to handling communication among the different stakeholders of the company. 
Join Now!
So, what are you waiting for? Come join the virtual conference on enterprise blockchain strategy and management through the comfort of your room!