Symposium on Blockchain for Robotics and AI Systems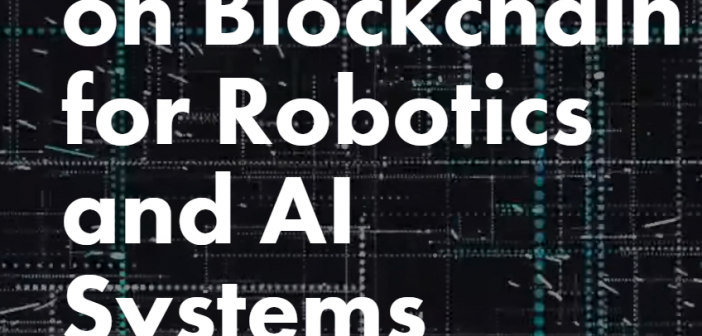 Symposium on Blockchain for Robotics and AI Systems is going to take place at MIT Media Lab, Cambridge, MA, USA. It is taking place on December 4, 2019. It is a one-day event, and it will take place from 9:00 AM - 6:00 PM EST.
The symposium aims to bring together the brightest minds in the field of blockchain, robotics, and AI. They are going to discuss the possibilities that blockchain technology brings in the field of AI and robotics. The brightest mind will include entrepreneurs, key stakeholders, scientists, and engineers.
According to the event page, AI systems and robotics are changing the different services out there. This can include healthcare, transportation, and other fields. Another technology that is changing the current industry is blockchain. This self-learning provided by AI and robotics is changing how academic institutions carry out their research. The involvement of blockchain is also game-changing as it helps improve other technologies, including AI and robotics. In the end, AI operations can become more profitable, flexible, and autonomous. The real challenge is to bridge the gap between the domains so that they can be implemented in real-world applications.
The aim of the symposium is to bring the best minds and learn about the limitations and possibilities of combining state-of-the-art technologies.
Important dates
Submission: closed

Registration: open

Author notification: November 5, 2019

Paper Submission deadline: October 31, 2019
Ticket pricing
The ticket pricing for the event will be as below.
Student ticket - $25

Company ticket - $250

MIT Media Lab Member Company - Free

MIT Staff/Student - Free

Member of the Press- Free
For free entry, you need to have proof of your affiliation.
Speakers
There will be prominent speakers at the symposium. Some of the notable ones are as below:
Prof. Aleksandr Kapitonov

Prof. Fabio Bonsignorio

Ms. Lydia Miller

Prof. Marco Dorigo

Prof. Alex 'Sandy' Pentland

Dr. Thomas Hardjono

Dr. Eduardo Castello

Emma-Jane MacKinnon-Lee

Daniel "Dazza" Greenwood

Jamiel Sheikh
Agenda
The agenda of the event is as below.
Opening remarks by Dr. Castello - 9:00 AM

Keynote by Prof. Alex "Sandy" Pentland - 9:30 AM

Coffee break - 10:00 AM

Prof. Marco Dorigo Keynote - 10:15 AM

Dr. Thomas Jardjono - 10:45

Prof. Alex Kapitonov - 11:15

Lunch break - 12

Paper presentation - 1:00 PM

Coffee break - 2:30 PM

Jamiel Sheikh Keynote - 3:00 PM

Ms. Emma-Jane Mackinnon-Lee Presentation - 3:30 PM

Ms. Lydia Miller - 4:00 PM

Mr. Daniel "Dazza" Greenwood - 4:30 PM