Enterprise Blockchain Implementation Summit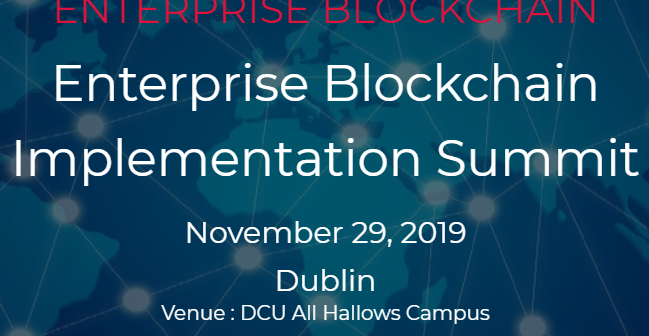 Enterprise Blockchain Implementation Summit is an enterprise blockchain summit that is going to take place on November 29, 2019. The venue of the event is DCU All Hallows Campus.
Enterprise Blockchain Implementation Summit
At the event, you will be able to meet the best minds of blockchain technology. There, you can interact with developers, industry leaders, blockchain technology experts, and gurus. They will discuss industry case studies and try to learn from there. The aim is to learn from the cases and implement it. They will also focus on enterprise blockchain future.
In short, leading experts will showcase their expertise and share their valuable opinion on how to make the most out of the enterprise blockchain. The end goal is to maximize profit for your company.
Statistics about the blockchain Dublin event
7 speakers

7 topics

50 tickets
Past Speakers
The past speakers include some of the prominent players in the blockchain industry. Some of the notable ones include the following:
Justin Mccarthy, ProjectUbu, CEO

Juan Engelbrecht, MOBU, Founder and CEO

Bob Blower, Globe Remitter and Crowd force, Advisory Board Member and Managing Director

Kevin Derman, Kaskade.Cloud, CEO

Rudi Kruger, Index Innovation Group, Founder

Thavash Govender, Microsoft, Data and AI - Solution Specialist

Fabin Van Der Merwe - Autoxchange.IO, South Africa Advisor
Current Speakers
Currently, they have one speaker listed on their site. It is Luiz Fernando Cruz, Technical Trainer, and Content Creator, Consensys.
Conference Schedule
The conference schedule is an exciting one. Check it out below.
Registration

Conference Overview by Archana Akhaury, 1.21GWS, Founder and CTO

Introduction to Ethereum by Luix Fernando Cruz, ConsenSys, Technical Trainer and Creator

Blockchain Proof of Concept

Small Break

How IoT and Blockchain improve supply chain real-time traceability

Lunch break

The future of blockchain

User journey and user experience - discussing web3 products

Small break

Smart contracts implementation and legal blockchain aspects

Global payments for an enterprise blockchain solution
Pricing
The pricing of the Enterprise Blockchain Implementation Summit is as below
Group of three(Early Bird) → EUR 280 → valid until July 27

Group of three(standard) → EUR 320 → valid until November 29

Individual(Early Bird) → EUR 370 → valid until October 29

Individual(Standard) → EUR 430 → valid until November 29.