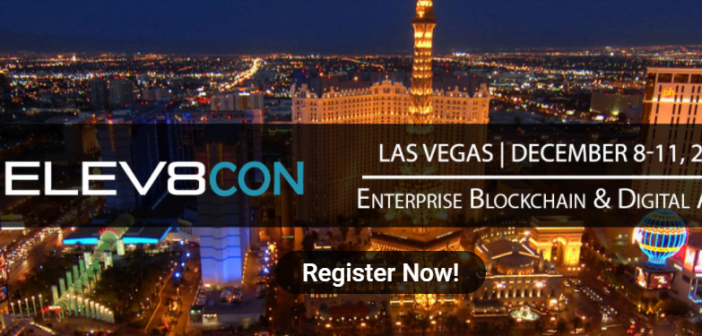 ELEV8CON is one of the most happening blockchain events. It is going to take place in Las Vegas from December 8th to December 11th, 2019. The event is all about digital assets and enterprise blockchain.
ELEV8CON Las Vegas Blockchain Event 2019
It is an annual premier expo and conference where topics like distributed ledger technology, enterprise applications, blockchain tech, and investment strategies are explored. It offers excellent presentations, panel discussions, dynamic workshops, and the ability to do proper networking. It will take place over a period of three days. By attending the event, you will be able to understand the organizational challenges that the emerging technologies bring.
The three key selling point of the ELEV8CON is as below
Enterprise and corporate strategy considerations and case studies

Leadership and connection thoughts on topics such as governance, identity, and privacy

Digital assets and markets on exchanges, tokenizations, and other investments.
Why attend the ELEV8CON?
If you want to learn from the best mind, including investors, leaders, innovators, blockchain strategists, then you can check out the ELEV8CON. The conference is aimed to improve strategy and investment decisions. They will explore how blockchain technology and how companies can utilize the blockchain technology. Topics include discussing regulatory landscape, executing projects is at the core of the conference.
Participating Organizations
Many big organizations are taking part in the conference, including the likes of IBM, Deloitte, Forbes, Oracle, Coinbase, Hyperledger, and others.
Speakers
Reputable speakers will be taking part in the conference. Some of the notable ones are included as below:
Ian Calderon, CA State Assembly, Majority Leader

Rohan Handa, BBVA, New Ventures

Beralda Kokoshi, State Street, Digital Product Development VP and Lead

Jashon Kelley, IBM, General Manager

Sandy Khaund, Ticketmaster, Vice President Blockchain Products

Andrew Romans, 7BC.VC, CEO

Joel Beasley, Leaderbits.io, CEO and CTO
Agenda
The conference will take place over three days. The first day is reserved for registration openings, badge pickups, welcome reception, and invitational private dinner.
On December 9th, there will be welcome remarks, special keynote, and covering different topics including future of supply chain with blockchain, a rise of digital money and digital assets, blockchain & gambling, AI, and blockchain, and other key topics.
On December 10th, they will cover more interesting topics including blockchain 2025, Security & privacy, tokenization, and so on.
Price
The price of the conference is as below
Standard registration → $895, ends on December 11th, 2019

Group registration 3+ → $671.25, 25% off, ends on 11th December 2019

Group registration 5+ → $581.75, 35% off, ends on 11th December 2019

Corporate Team Package 10+ → $492.25, 45% off, ends on December 11th, 2019