ELEV8 Las Vegas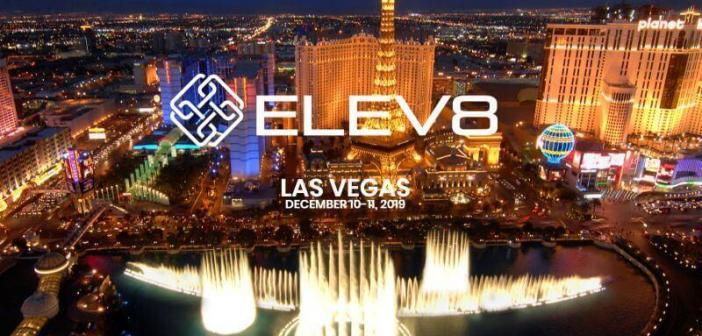 The Elev8 Las Vegas Conference on Blockchain technology and its impact on the economic global ecosystem is scheduled as a two-day event starting December 10th to December 11th, 2019. It offers a high-value platform where the leading tech experts in the industry can share the same space with the industry stakeholders and engage in productive discourse.
Now, of course, the entire event isn't structured as a basic conference or a simple networking gig. Albeit you can visit Elev8 and create new connections, but it will also feature dedicated sections where thought leaders and distinguished speakers are going to come on stage and share their experience and insight regarding the future in the light of blockchains, cryptocurrencies, digital assets, and other emerging technologies.
Speakers
At the time of writing, there is no publicly available information regarding the speakers who are going to make an appearance at the Elev8 Las Vegas conference 2019.
But if you want an idea regarding the quality of individuals who generally make their appearance at the Elev8 conference, then you should take a look at some of these previous speakers who attended the event:
Jim Dolbear President, Elixxir

Tsung-Ting Kuo, Assistant Professor of Medicine, UCSD Health Department of Biomedical Informatics

Kedar Iyer, Director of Software, Everipedia

Richard Greenberg, CISSP, Information Security Officer, Los Angeles County Department of Public Health

Michael Terpin, CEO, Transform Group
And many more
Who Should Attend?
Elev8 has built itself up a global community that works with industry experts and thought leaders in the field of blockchain.
This includes big and successful companies and enterprises that owe their names in the Fortune 1000 list, to up & coming startups that have already started disrupting the market.
It also serves as a platform for stakeholders, who can come and engage in direct discourse with the people that are shaping this new digital world.
If you think you fall under any of these categories, then visiting Elev8 should be an entertaining as well as enlightening experience.
Ticket Prices
Ticket prices for the Elev8 Las Vegas Conference 2019 are priced at $895.
The ticket will fetch you full conference access to all presentations, panels, and the exhibition floor. You will also be able to attend the opening & closing Elev8 reception complete with an open bar and h'orderves. And let's not forget about the priceless opportunity to meet and connect with some of the top investors, advisors, developers, and blockchain entrepreneurs working today.
Individuals interested in attending the event can get the tickets at a price of $495 if they book them before October 30th.