Digital Government 2020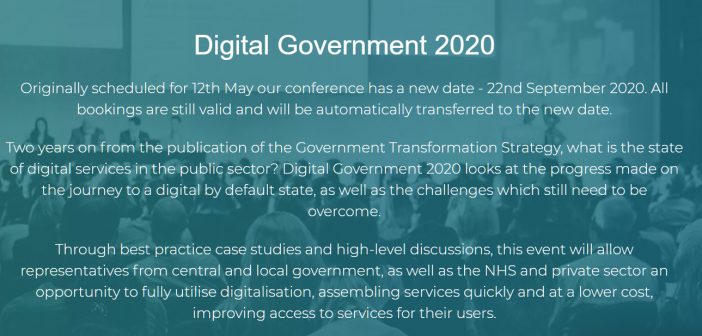 Digital Government 2020 is going to take place on 22nd September 2020. The new date was announced recently and it was shifted from the 12th of May. This means that if you bought the ticket, you will have access to the conference, but on 22nd September 2020.
The Digital Government 2020 will focus on the public sector's change with digital services. There are ofcouse challenges that come with the implementation. At the event, there will be high-level discussions and best practice case studies by the local and central government representatives. This will also enable the private sector to completely take advantage of the digitization and ensure services are manageable when it comes to cost. The end result is to provide services to the user and improve their experience.
More About Digital Government 2020
The Digital Government 2020 is hosted in collaboration with the Crown Commercial Service. The event is all about making processes in the digital future journey. To do so, it would require us to meet challenges face-on and overcome them with experience, grit, and intelligence. As it is a one-day event, they will focus on how the public sector can improve their design services to make them more accessible and user-centric.
There will be a lot of topics discussed at the event include the following:
Digital Skills

Digital Access and Inclusion

Business Transformation

User Experience

Digital Identity

Data Ethics and Protection
Agenda
The agenda at the Digital Government 2020 is as below.
From 8:30 to 10:30 → Registration, Chair's Opening Remarks by Jeni Tennison, Opening Keynote on GOV.UK and how they are using a single domain to transform government by Jen Allum, Headline sponsor, and then talk about Right Governance and Data-Driven Technologies by Roger Taylor. Finally, there will be morning break where you can take refreshments and also do networking.

Morning Session, from 11:25 to 12.05 → It will start with Chair's Opening Remarks by Nadira Hussian from Socitm, leading to keynote on the Championing Digital Transformation across local government by May-N Leow. In the time, there will be two more keynotes, one case-study, and two-stream sponsor talks as follows.

Digital Transformation Across Healthcare Services by Matt Edgar, NHS Digital

Increasing the Pace of Digitization Across Government by Nic Harrison, DWP

Norwich City Council's Digital Inclusion Project by Laura Wigby, Norwich City Council

Transforming Service Journeys by Gavin Elliot, DWP

Making Online Public Services by Ricard Morton, Government Digital Service

Lunch break where you can check exhibition and do networking at 13:20

After Lunch Session from 14:30 to 14:45 consisting of three panels:

Encouraging the Ethical Use of Open Data across Local Government by Marius Jennings, James Maddison, Frankie Kay.

Challenges and Solutions to using Data across the NHS by Tom Denwood, Terence Eden, Jeni Tennison, and Jenny Firth

Digital Identity: Assessing Plans and Progress for the Future by Shiv Aggarwal, Renate Samson and Adam Cooper

Afternoon break for exhibition and networking at 15:25

After the afternoon session, there will be six talks including two case-studies.

End of sessions at 16:45
Speakers
There will be some prominent speakers at the conference including 
Roger Taylor, Chair, The Centre for Data Ethics and Innovation

Shiv Aggarwal, European Lead Government Blockchain Association and Lead at MyEarth.ID

Matt Edgar, Associate Director for User Research and Design, NHS Digital
Tickets
There are two types of pass for the Digital Government 2020 including
Public Sector Complimentary Pass with Limited places 

Private Sector with the following prices

£775 for 1st delegate

£595 for 2nd delegate

£595 for subsequent delegates