Digital Entertainment World 2020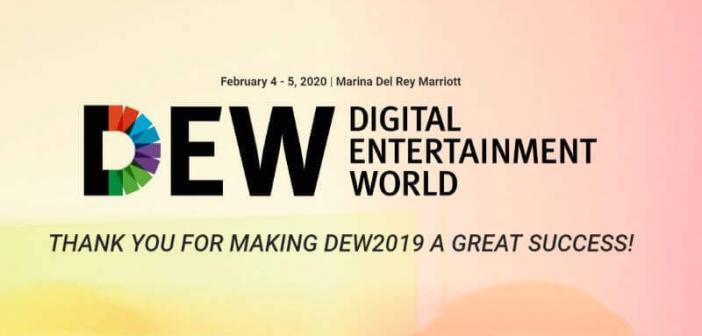 The next Digital Entertainment World event - or DEW for short, is scheduled as a two-day event taking place on 3rd and 4th Feb 2020 at Marina Del Rey Marriott, Los Angeles. The event hopes to highlight the impact and prospect of blockchain technology amongst intellectual property rights holders.
It builds itself as a first-class platform where video, music, and even game publishers can come together with blockchain service providers, digital distributors, and device manufacturers to build a necessary partnership.
You can expect an insight discourse touching topics on how blockchain can resolve concerns regarding piracy and allow distributors to properly monetize digital content across all significant platforms.
Speakers
No information is currently (at the time of writing) available regarding the speakers who will share the stage at DEW 2020.
However, judging by the fantastic ensemble of thought leaders and experts who appeared at DEW 2019, there is no reason to expect the next iteration to be any less engaging and insightful.
Agenda
We also haven't received any information regarding the agenda of DEW 2020. All we know that it's going to be a two-day event taking place from Monday 3rd Feb - Tuesday 4th Feb 2020.
Taking cues from DEW 2019, we can expect featured presentations complemented by keynotes and fireside chats.
Who Should Attend?
The conference focuses on the monetization of digital content in the light of the revolutionary blockchain technology.
As such, professionals coming from media and entertainment corporations as well as blockchain solution providers will value deeply from attending the event. This includes:
CEO & company founders

Investors

Directors of Business Development

Marketing, Sales & Brand Managers

Product Managers

Producers & Developers

Media Executives

Researchers & Analysts
And the likes.
Of course, enthusiasts and individuals looking for a first-hand view at the digital world that is being paved by blockchains are also welcome.
Ticket Prices
As of now, there is no official statement regarding ticket prices to attend DEW 2020.