DIGITAL ASSETS AND CENTRAL BANK DIGITAL CURRENCIES (CBDCs) VIRTUAL CONFERENCE
Featured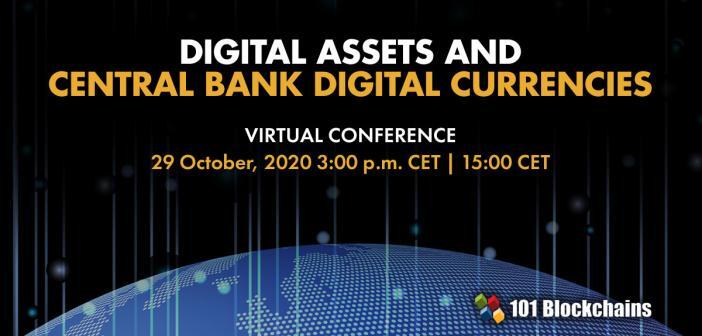 Digital Assets And Central Bank Digital Currencies(CBDCs) Virtual Event is a one-day online event that is going to take place on 29th October 2020. It will take place at 3:00 p.m. CET/ 9:00 a.m ET.
The online event will cover more than three topics that will cover 8+ speakers and 1000+ attendees!
About Digital Assets And Central Bank Digital Currencies(CBDCs)
Blockchain is more than cryptocurrencies. However, cryptocurrencies are vital for the growth of blockchain and that can be seen from the current market environment. The current market relies heavily on blockchain protocols and their aim is to solve problems via cryptographic algorithms and solutions.
The negative point of view against cryptocurrencies has failed many initial coin offerings(ICOs) in the last few years. Some of them were scams, however, somewhere genuine, but resulted in failure due to risky adventures or lack of substance or background.
The main aim of the ICO is to create a digital asset that can help monetize the project and bring the necessary promises and features. In the end, the investors suffer the most as they invest in it without understanding the scope and reliability of the project.
In the end, it is important to understand that cryptocurrencies have their own place and should not affect the promises of decentralized distributed ledger technologies.
The digital event is free to join and you can start registering for it now.
Event Program (CET/ET)
Conference opening: 15:00/09:00 am
Opening keynote: 15:05/9:05 am
Panel 1 - Digital Assets, 15:30/09:30 am
Keynote: 15:55/09:55 am
Panel 2 - Central Bank Digital Currencies: 16:20/10:20 am
End of Conference - 16:45/10:45 am
Featured Speakers
Currently, we are in the process of finalizing the speakers. So bookmark the page if you want to learn about the finalized speakers who will share their experience and knowledge through the event.
Topics
The three key topics that will be covered in the digital event include digital assets, strategy, and CDBCs.
Apart from that, the virtual conference will focus on two key topics including the following:
Digital Assets: Digital assets have a speculative aspect to it. However, once it is removed, it provides value to the system by streamlining operations, providing peer-to-peer collaboration, reducing costs, and most importantly using blockchains as the infrastructure to manage digital assets and its transfer value among peers.
Central Bank Digital Currencies(CBDCs):
Another topic that will be deeply covered is CBDCs which add value to the digital assets' intrinsic value and remove the volatility of cryptocurrencies. Even banks are reconsidering the use of digital assets as it helps them to make settlements faster with the use of a decentralized network. It improves cross-border exchange and makes use of smart contracts to automate transactions between parties.
The central bank, on the other hand, is not immune and hence need to find a way to regulate digital currencies so that they can standardize the creation and adoption. That's what they are doing for central bank digital currencies(CDBC).
Tickets
The event will be free to join. All you need to do is go to the events page and register there.