Digital Asset Summit (DAS) 2020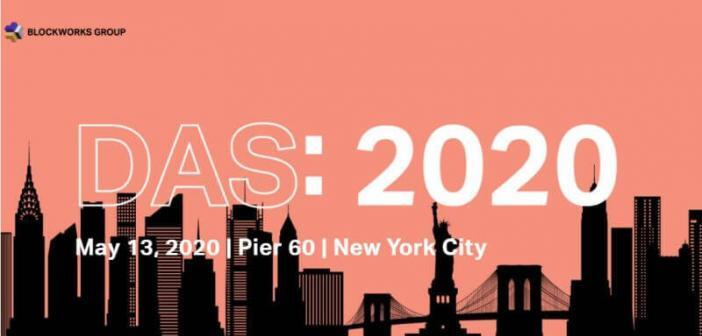 The Digital Asset Summit (DAS) 2020 is all set to take place in New York City, this summer on May 13th, 2020. The main focus is to facilitate a productive discourse that helps to bridge the gap between the legacy financial system with the emerging world of digital assets, DLTs, Smart Contracts, and similar technologies.
The conference aims to provide a platform for professionals working inside the financial industries, especially FinServe corporations, and investors who either have a stake in the blockchain industry or looking to adopt the distributed ledger infrastructure. Topics involving market infrastructure, trading, and liquidity will take the front and center of the event. 
Speakers
The speakers appearing this year at DAS 2020 is yet to be officially announced. However, you can take a look at the DAS 2019 lineup to get an idea of the quality of speakers to expect this time around.
Some of the most distinguished names from last year were:

Mark W. Yusko - CEO at Morgan Creek Capital

Sunayna Tuteja - Head of Digital Assets and Blockchain at TD Ameritrade

Adam White - Chief Operating Officer at Bakkt

Meltem Demirors - Chief Strategy Officer at CoinShares

Marcos Veremis - Managing Director at Cambridge Associates

Colleen Sullivan - Chief Executive Officer at CMT Digital Holdings LLC

Nick Grossman - Partner at Union Square Ventures

Catherine Coley - CEO of BAM Trading Services at Binance

Rayhaneh Sharif Askary - Sales & Business Development at Grayscale Investments

Michael Del Castillo - Staff Writer at Forbes 

Amber Baldet - Former Blockchain Lead at JPMorgan
And many more.
We are expecting the full list of DAS 2020 speakers to be announced in the following month.
Agenda
The one-day event was a packed schedule starting off at 8.30 am and ending at 6.30 pm. Throughout the day there are multiple sessions dedicated to fireside chats and keynote presentations. You can also get the occasional coffee breaks and a lunch break which are coupled with a Table Top Display.
Some of the key topics that are going to be discussed include:
The Asset Allocator's Perspective

How derivatives are the next frontier of trading

Tokenization

How Crypto Exchanges are slowly evolving

The duty of Crypto Custodians

The hurdles in front of crypto markets

Crypto Trading and its infrastructure

Blockchain Development
The event is set to wrap up around 4.45 pm with a cocktail reception paired with a tabletop display which will last till 6.30 pm.
Who Should Attend?
The event focuses purely on the impact and future of Blockchain-related matters on the financial industry. It also touches on topics that interest investors and related bodies like crypto exchanges. 
As such, if you invest in cryptocurrencies or a professional tied to a FinServe corporation using or planning to use the Distributed Ledger Technology, then you can benefit from attending DAS 2020. 
Furthermore, even though it's a one-day event, there should be ample networking opportunities to make connections with your peers in the industry.
Ticket Prices
Ticket prices for Standard General Admission are set to $500 per person. However, if you attend in groups of more than 3 people, then prices will drop to $400 per head. VIP tickets are sold at $999 per person. If you are an Investor, then entry to the event is completely free.