Dezentral Berlin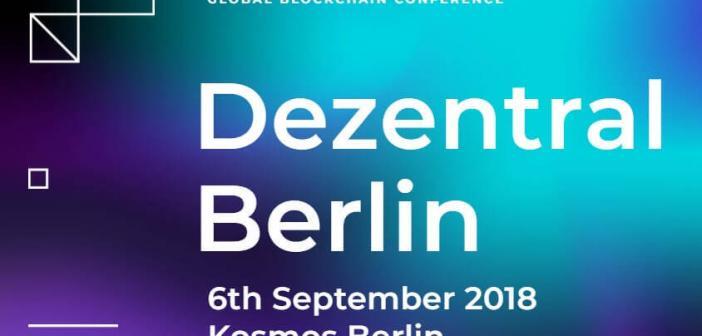 Dezentral Berlin is a global blockchain conference that is going to take place on 6th September 2018 on Kosmos Berlin. It is an inclusive blockchain conference that welcomes longtime holders, builders and even newcomers spread across the world.
The event will take place in Berlin for one full day. More than 500 attendees will take part in the event along with 40 speakers who will share premium content with all of them.
Speakers - Blockchain conference Berlin
The first thing that you will notice about the Dezentral Berlin is the speakers that they have onboard. All of the speakers are top-notch and have extensive work experience in their field. To learn more about them, let's list the more prominent ones below.
Arthur Breitman, Co-Founder, and CEO, Tezos
Li Huo, Managing Director, Huobi Capital
Joyce Lai, Law and Technology, ConsenSys
Van Cam Pham, Chief Scientist, Tomochain
Baron Gong, CEO, Origo Network
Sma Williams, CEO, Arweave
Anna Rose, Founder, Zero Knowledge
Alex Pack, Dragonfly
Do Kwon, Co-Founder, Terra
MacLane Wilkison, CEO, and Co-Founder, NuCypher
And many more. You can find the whole list of speakers on their official website.
Tracks
There will be two tracks that will take place on 6th September.
Track 1: Continuity. It is the main track which discusses dApps, industry adoption, gaming, investment, and blockchain beyond Ethereum.
Track 2: Genesis is a project track where they will invite the best projects that are in early stages. It is an invite-only show, and only the best projects are selected to showcase the future of blockchain.
Other key events on the day include the following.
Room 1: Continuity
Keynote by Arthur Breitmann, Tezos maximalism
Beyond Ethereum
Special Purpose Blockchain
Security Tokens and Regulations
Fireside Chat
Global Blockchain Ecosystems
Room 2: Genesis
OSCoin
Spacemesh
Fluence
Datawallet
Neutral
Nervos
and much more!
If you are curious about their whole schedule, do check their official website.
Venue
The venue for the conference is Kosmos Berlin. It is a beautiful place which offers the right amenities to run the event successfully.
Tickets
The tickets are already on sale. The tickets are as follows:
General Admission: 180€
Student Ticket: 50€
General Admission Crypto: 180€
All the tickets have limited availability, and you might need to pay extra tax.
Should you visit Dezentral Berlin?
Dezentral Berlin has two tracks to offer, Continuity and Genesis with each one of them offering unique content. If you are only interested in projects, then you can check out Genesis, otherwise, check out Continuity, a place where you can learn about new content regarding blockchain technology. Overall, a great event and it is all up to you to decide if you want to visit it or not.