Developer Week New York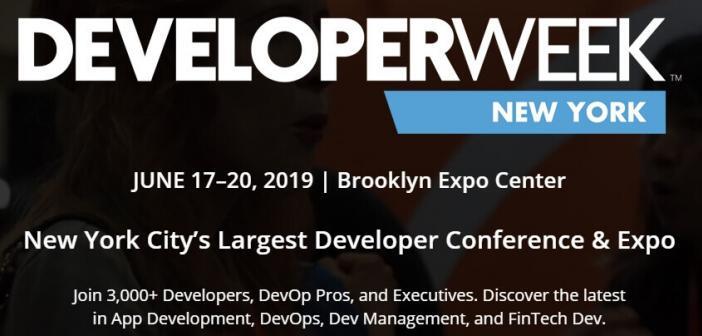 Developer Week New York is set to be East Coast's largest developer and software engineering event. Over 3000 developers, engineers, architects, IT professionals, tech executives, and dev managers are expected to be present at the event. A number of events have been planned to showcase the latest in the world of technology.
Venue
The seventh Developer Week New York is scheduled from Wed, Jun 19, 2019, 8:00 AM – Thu, Jun 20, 2019, 4:00 PM EDT at the Brooklyn Expo Center. With New York being the capital of the app development enterprise, we can expect established developers as well as promising startups to be a part of the event.
Agenda
More than six conferences have been planned at the Brooklyn Expo Center. Attendees can also be a part of summits, workshop tracks, and partner events. Competitions like the New York Hackathon and Hiring Mixer will also be part of the event this year. The AI Dev Summit and OPEN Innovation Talks are two of the highlight events at the Developer Week, and it will allow visitors to catch up on all of the latest innovations in the world of technology.
Tickets
Executive Pass: $1,145.00
PRO Pass: $695
OPEN Pass: $150
Speakers
Some of the notable speakers who will be part of the event include Sandeep Uttachandani (Chief Data Architect at Inuit), Matt Kamen (Senior VP, Engineering at Foursquare) and Pooja Malpani (Head of Engineering at Bloomberg Media).
Should you attend the event?
The event is the perfect opportunity for developers and tech enthusiasts alike. Whether you want to meet the industry experts or want to just find out more about the latest happenings in the world of app development, the Developer Week New York is going to be worth your time. APIs, microservices, digital currency, and AI, are going to be the highlights of the upcoming event. You can also take part in the Hackathon to show off your hacking skills against the best in the world.