DEFI CONFERENCE 2020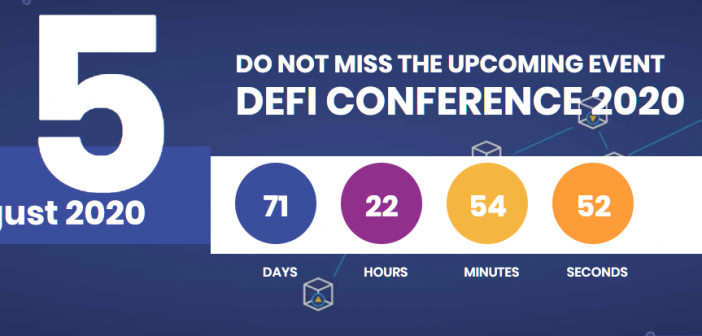 DeFi conference 2020 is going to take place on 5th August 2020. It is a free one-day conference were 25 global speakers will share their knowledge about DeFi or Decentralized Finance. It will include two tracks. They will cover a wide variety of topics including open finance, financial inclusion, regulation, and adoption.
At the event, you will be able to connect with academics, liquidity providers, investors, regulators, economists, and many others! If you are interested and looking to network with likeminded people from the decentralized finance industry, then the conference might be a good opportunity for you!
There is no doubt blockchain-based decentralized finance innovations are the future as they will be transforming the financial system out here by creating a more transparent and inclusive finance future.
More about DeFi Conference 2020
The conference will be joined by COOs, CTOs, CIOs, and so on! If you are not on the top but are still interested, you can also join. For example, if you are the head of innovation, IT architecture, development, head of security, head of applications, developer, software engineer, and so on! 
In short, if you are interested in the decentralized finance sector and want to learn about it, then check out the DeFi Conference 2020.
Why You Should Attend?
There are many reasons to attend the DeFi Conference 2020. Let's talk about them below.
Gain valuable insights on how decentralized finance is disrupting the different industries out there. You will also be able to learn from real-world case studies of existing DeFi products, platforms, and services.

Understand the future consumer demands

Learn how DeFi can have more impact on the greater participation of it in the financial ecosystem.

Also, learn about successful DeFi implementation strategies.
At the event, you can expect the following
Do networking with progressive professionals across industries including insurance, investment, regulation, legal, and so on!

Learn about exciting discussions and topics that are related to innovative DeFi projects.

Also, learn from world-class global speakers where they discuss their real-world projects
Programme/Agenda
The DeFi conference will have two tracks.
1st Track
Welcome Address by Master of Ceremonies → 10:00 am - 10:15 am

Where are we with DeFi  → 10:15 am - 10:35 am

DeFi and Insurance disruption  → 10:35 am - 11:00 am

DeFi innovation with EOS  → 11:00 am - 11:30 am

Reinventing banking with DeFi  → 11:30 am - 12:00 pm

Interoperable DeFi  → 12:00 pm - 12:20 pm

Security measures for DeFi products and services by Carel de Jager  → 15:00 pm - 15:30 pm

Regulations of decentralized finance  → 15:30 pm - 16:00 pm

The Role of Privacy in Defi by Luca Cosentino  → 16:30 pm - 16:50 pm
2nd Track
Welcome Address by Master of Ceremonies → 10:00 am - 10:15 am

Trading opportunities in a DeFi world → 10:15 am - 10:35 am

Automated market-making futures 11:00 am - 11:20 am

Gnosis and Prediction Markets by Dr. Friederike Ernst → 11:20 am - 11:40 am

Crypto Investments: Examining Real Investment Data from Active Funds by On Yavin → 11:40 am - 12:-00 pm
Speakers
At the online conference, there will be amazing speakers! Check them below
On Yavin → CEO and FOunder of CoinIntelligence

Itamar Lesuisse → CEO and Co-Founder of Argent

Luca Cosentino → Product and Go To Market At Oasis Lab

Carel De Jager → Lead Instructor at Blockchain Academy

Richard De Sousa → CEO and Founder at Altcointrader

Dr. Friederike Ernst → COO at Gnosis