Decentralized 2020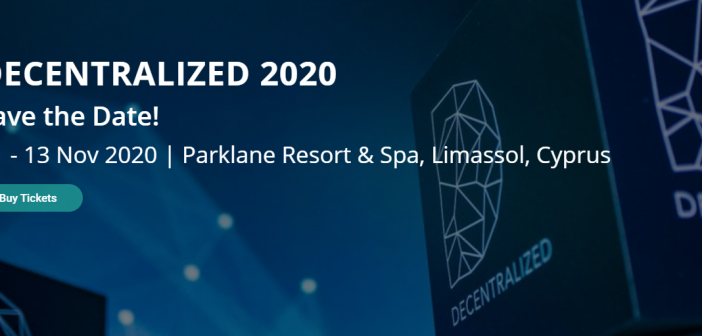 The 4th Annual Decentralized Conference is going to take place in Limassol, Cyprus. It is a three-day conference that is based on learning for digital currencies and blockchain. It will take place from 11th to 13th November 2020.
Speakers
There will be some high profile speakers at the conference. However, the list of speakers in the Decentralized 2020 is not yet announced. To gauge what you can get at the conference, let's go through the 
Let's look at some of them below:
Dr. Adam Back → CEO, Blockstream, He is a Hashcash inventor and have also co-founded Blockstream. Apart from that, he is working in the e-cash 

Bill Barhydt, CEO, and Founder, Abra, is a serial entrepreneur who has worked on multiple products including Abra.

Perianne Boring, President, and Founder of, Chamber of Digital Commerce, founded the Chamber of Digital Commerce and is also popular for her accomplishments.

Ryan R. Fox, Development Coordinator, BitShares, works on consensus contracts, APIs, and other protocols.

Dr. Garrick Hileman, Head of Research, Blockchain, He manages bitcoin and also how the blockchain technology research goes on.

Eva Kaili, MEP Chair, STOA, She worked on European Digital Single Market innovation

Antony Lewis, Director of Digital Assets, R3, manages R3 including its transformative implications and nature for digital assets.

Silvio Schembri, Jr Minister for Financial Services, Digital Innovation, and Economy, Malta, Works as academic, economist, and politician.

Dr. W. Scott Stornetta, Chief Scientist, Yugen Partners, He is a chief scientist and is considered as the co-inventor of blockchain technology
Tickets
Currently, they are offering only one ticket for entry to the conference. You can buy the Super Early Bird for only €199.00. The price can increase later on depending on how close the dates are for the conference. So, if you want to learn more about the pricing, do keep a tab on the page for more.
The ticket will give you access to the following.
Full three-day sessions

Networking Cocktails

Lunches and Coffee Breaks
Venue
The venue set for the Decentralized 2020 conference is Limassol. The place offers a spontaneous and vibrant atmosphere in the Cyprus cosmopolitan city. The city has a colorful and rich history which helps make it a thriving commercial center.
Statistics
Attendees → 1500+

Speakers → 100+

Sponsors → 40+

Exhibitors → 20+

Media Partners → 30+

Countries → 50+