Decentralized 2019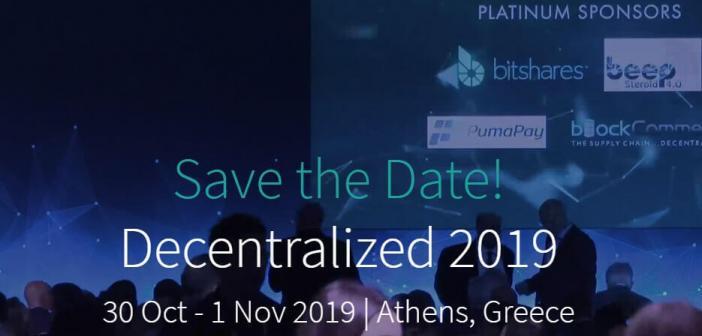 Decentralized 2019 is one of the most popular events in Europe. It is seen as Europe's premier conference on digital currencies and blockchain.
It will take place from 30 Oct - 1 Nov 2019 at Athens, Greece.
It will host a total of 1500+ attendees, 40+ sponsors, 100+ speakers, 20+ exhibitors, 30+ media partners and attendees from 50+ countries. It is truly a global event with a focus on blockchain and decentralized ledger technology.
The Decentralized 2019 event will bring the best academic experts and business executives from all around the world. They will debate on future developments and current trends which will be spread across three conference tracks.
Conference tracks
The event will host three conference tracks. The conference tracks will be as follows:
Business: business leaders and executives will discuss how digital currencies and blockchain have the potential to disrupt businesses.

Technology: The professionals from digital currency and blockchain will take on the latest development

Academia: The researchers will discuss how the blockchain space looks exciting and share their research.
There will also be interviews, presentation, and keynotes on the show floor.
Decentralized 2019 speakers
The decentralized 2019 speakers will be as follows:
Toni Lane Casserly - Founder, Culture

Bill Barhydt - CEO & Founder, Abra

Ian Gauci, Partner, GTG Advocates

Tim Draper - Founder, Draper Associates, DFJ, Draper

Alexis Nicolaou - Director, block.co

Antony Lewis - Research Director, R3

Silvio Schembri - Jr Minister for Financial Services, Malta

Jeremy Epstein, CEO, Never Stop Marketing

George Giaglis - Director, Institute for the future, University of Nicosia

Raphael Markellos - Finance Professor and Research Director

Tone Vays - Content Creator, ToneVays.com

John Velissarios - Global Managing Director - Accenture

Andreas Vlachos - Partnerships Manager, Institute for the Future

Fabian Schulz - Business Development & Partnerships, Parity
Chapters
There is a clear motive behind Decentralized 2019. They want to build a community that has a passion for blockchain technology and digital currencies. These chapters ensure that knowledge and technology awareness is distributed through proper channel across different regions of the world. The chapter activities are as below:
Education/Training

Speaker series

Startups Support

Volunteer Activities

Peer support for UNIC programs
Tickets
The tickets for Decentralized 2019 are as follows
Super Early Bird - €299.00

Super Early Bird Student - €149.00

Super Early Bird & CORDA Bootcamp - €348.00

Super Early Bird Student and CORDA Bootcamp - €198.00
The decentralized tickets will give you access to Full two-day sessions, networking cocktails, coffee breaks & lunches. The Decentralized & CORDA Bootcamp will provide you with access to full three-day sessions, coffee breaks & lunch and networking cocktails.
Statistics
Attendees - 1500+

Speakers - 100+

Sponsors - 40+

Exhibitors - 20+

Media Partners - 30+

Countries - 50+